Bijoy K. Khandheria May 11, 1956 – February 13, 2023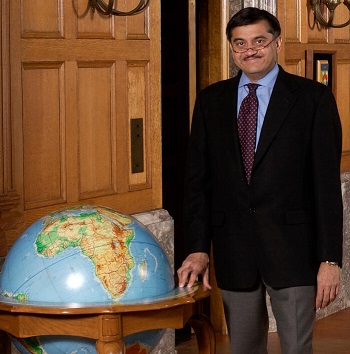 Bijoy K. Khandheria, ASE's 16th President, served as the Medical Director of Aurora Global & Executive Health Program Services since 2010, Medical Director of the Echocardiography Center for Research & Innovation since 2012, and Medical Director of Echocardiography Services at Aurora St. Luke's Medical Center since 2013. He was also Clinical Adjunct Professor of Medicine, at the University of Wisconsin, School of Medicine, Milwaukee since 2011. Before moving to Milwaukee and Aurora St. Luke's Medical Center, he served in many noteworthy positions at Mayo Clinic in Scottsdale, Arizona and Rochester, Minnesota.
Dr. Khandheria received his MS in Pre-Medicine and his MBBS/MD from Maharaja Sayajirao University of Baroda, India. He completed residencies in internal medicine at Shree Sayaji General Hospital in Vadodara, India, Drexel University College of Medicine/Hahnemann University Hospital, and Saint Agnes Medical Center of Philadelphia. Dr. Khandheria then completed a fellowship in the Division of Cardiovascular Diseases & Internal Medicine at Mayo Clinic Rochester.
Dr. Khandheria was the Principal Investigator or Co-Investigator on numerous industry- and federal-funded, multi-year research projects that led to numerous publications of findings. He was named on two U.S. Patents for "Method for assessing vascular disease by quantitatively measuring vaso vasorum" and "Method for imaging intracavitary blood flow patterns." In addition, he authored or co-authored over 350 publications. He edited seven books on echocardiography and was a lead author on all three editions of ASE's Comprehensive Echocardiography textbook. Dr. Khandheria served as Senior Consulting Editor and a trusted guest editor for the Journal of American Society of Echocardiography, Associate Editor for the European Heart Journal CV Imaging, and also formerly held roles with the Journal of Echocardiography, JACC CV Imaging, JACC, and was a reviewer at numerous online and print medical journals.
In addition to serving ASE as President from 2005 to 2006, Dr. Khandheria served on many Society committees and task forces throughout his esteemed career. He helped establish ASE's educational course portfolio and was the co-director of ASE's State-of-the-Art Echocardiography course from 1995 through 2020. He served as the program chair of the ASE 2001 Scientific Sessions in Seattle, Washington. In 2006, he delivered the 17th Annual Edler Lecture titled "Back to the Future." He helped lead the charge along with Dr. Randy Martin to rebrand ASE with a new logo and new tagline "Society of Cardiovascular Ultrasound" and expand ASE's visibility on the world stage. As ASE's first Indian (nationality) President, Dr. Khandheria helped ASE establish ties with India that are still in place today, assisting Indian healthcare professionals to become one of the largest contingents of non-U.S, ASE members. He also served on the Board of Directors of the Committee on Accreditation for Advanced Cardiovascular Sonography (CoA-ACS) and was a tremendous advocate for sonographers and always championed their roles in the organization and in research and teaching.
Dr. Khandheria was a dedicated advocate for the field of cardiovascular ultrasound and his commitment to education was unwavering. He had a deep insight into the educational needs of sonographers and physicians and an exceptional ability to tailor his knowledge and presentations to meet the needs of the audience. He was a world-renowned clinician and sought-after speaker and educator throughout his career as a cardiologist. He was a visionary in the field with an enthusiasm, generosity, and kindness that touched many lives. He will be deeply missed by everyone who had the pleasure of interacting with him and learning from him.