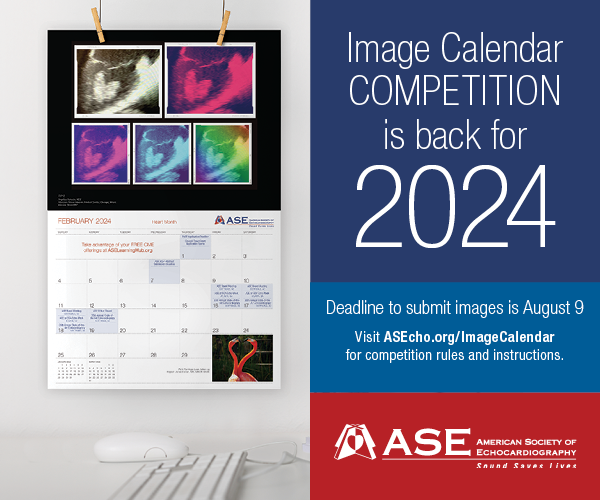 Attention, ASE members: Submit your images to the ASE Echo Image Calendar contest! This popular member renewal gift enables members to upload exceptional cardiovascular images for consideration in the Society's 2024 Image Calendar. Members can submit images now through August 9. Please include a title and brief description with your image submission.
To upload your images, visit the ASE 2023 Calendar Contest Library on Connect@ASE:
Log in to Connect@ASE using your ASE username (email address) and password.
Using the left navigation, scroll to Libraries and click on Image Library.
Click on the folder named ASE 2023 Calendar Content.
Click Upload Resource under Folder Contents to upload your image(s). Image file size cannot exceed 30 MB.
Upload as many images as you would like.
Remember to include a title and brief description of your image.

All members who renew by December 31, 2023, will receive the 2024 calendar in the mail*. Questions? Email ASE Marketing Coordinator Kayla Van Ormer.
*Not including members who live in locations that are not served by the USPS