Download the Final Program for Event Details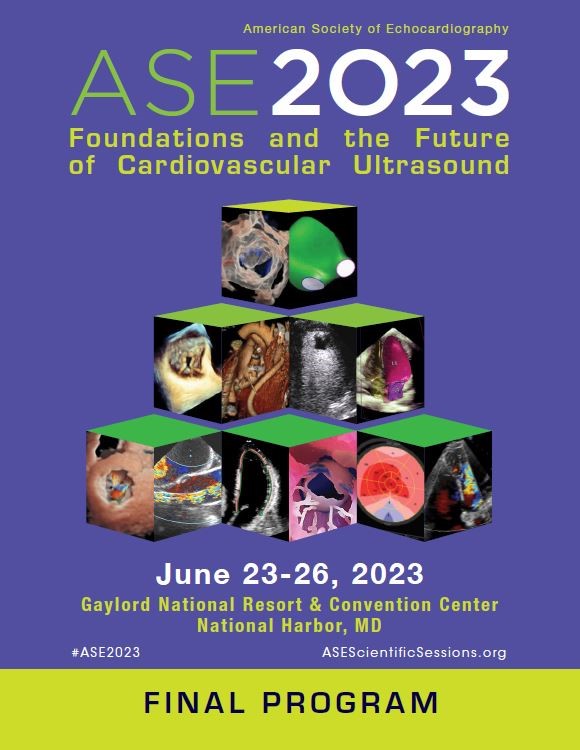 The ASE 2023 Final Program is now available! Already Registered? Download the Final Program to begin planning your schedule. Not yet registered? Download the Final Program to see the many education and networking opportunities offered at ASE 2023, and register today!
The 34th Annual Scientific Sessions in National Harbor, Maryland, June 23-26, will focus on cardiovascular ultrasound as foundational to cardiovascular practice, while also examining the exciting future of the field. Education, science, innovation, public service, global outreach, and clinical care will be on display throughout the conference. Both in-person and virtual registration options are available.
NEW THIS YEAR
The Arena: An all-new construction hosting "can't miss" sessions including debates, "TED" style talks, The Heart Team in Action, Echo in the Wild, Echo Heard Round the World, Best of Imaging Research, and AI and the Workflow in the Echo Lab, to name a few!
Cardio-Oncology Building Blocks Bootcamp: All you need to know about this growing field built into an extended session.
Echogenomics: Interaction and innovation in pediatric cardiology.
The Cutting Edge of POCUS Training and Advantages and Limitations of Cardiac POCUS: A Case Series: Focus on critical care echo and cardiac POCUS.
Engineering in the Echo Lab: Building the Future: Session on academic and industry collaboration.
Echo Lab Medical and Technical Directors Forum: Lab management in challenging times.