The March JASE includes "Recommendations for Cardiac Point-of-Care Ultrasound in Children: A Report from the American Society of Echocardiography", endorsed by the Society of Critical Care Medicine. Jimmy C. Lu, MD, FASE, lead author said that, "Although the clinical scenarios for someone in the pediatric emergency room, intensive care unit, or operating room may vary dramatically, there are common technical factors to consider when imaging children and the same need for appropriate training and quality assurance. Previously, there were not uniform recommendations for utilization in the pediatric population, leading to variation among specialties, sometimes even within the same institution. This guideline aims to define those common considerations and to emphasize the importance of collaboration across specialties to optimize pediatric patient care."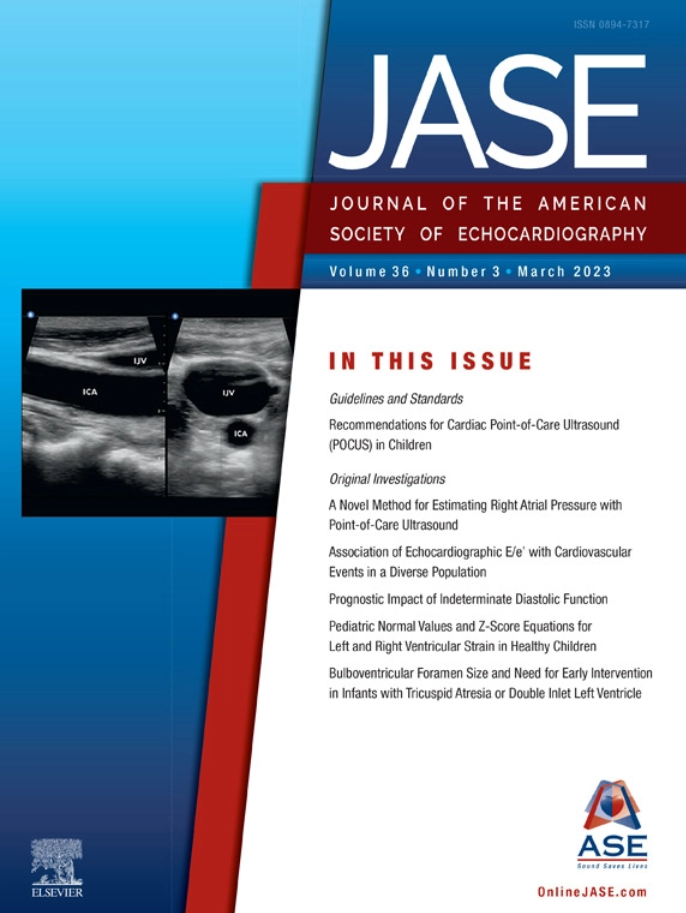 Dr. Patricia A. Pellikka, MD, FASE, JASE Editor-in-Chief, writes in her editorial, "Relevant to the aforementioned guidelines document and also published in this issue are the results of a survey from the ASE Task Force on Cardiac POCUS in Children. This survey of North American pediatric echo lab directors was conducted to understand perceptions and challenges related to clinical use of cardiac POCUS in children. Challenges identified were related to collaboration between pediatric echo labs and others providing cardiac POCUS in children, and difficulties in defining and measuring competency of providers."
In addition, other clinical investigations explore POCUS, diastolic function and prognosis, pediatric normal values and Z scores for ventricular strain, and echocardiography in infant congenital heart disease. Two editorials address left ventricular diastolic dysfunction and reference standards in quantitative Pediatric Echocardiography. The Brief Research Communications describe echocardiographic reporting of the aorta in young competitive athletes, utilization of an ultrasound-enhancing agent use in evaluating the right ventricle in patients with left ventricular assist device, left atrial volumetric/mechanical coupling index in the general population (from the Copenhagen City Heart Study), and a novel index of right ventriculoarterial coupling in adult patients with repaired Tetralogy of Fallot using 3D speckle-tracking echocardiography. A letter to the editor addresses exercise-induced cardiac remodeling and atrial fibrillation in female endurance athletes.
The President's Message, "Sonographer Challenges Today," from Stephen H. Little, MD, FASE, is co-authored with Keith Collins, MS, RDCS, FASE, the current Council Representative on the ASE Executive Committee of the Board of Directors. The authors start off the column, "As we move beyond the global health crisis caused by COVID-19, we must adjust to a changing healthcare delivery environment, a significantly altered workforce, and the seismic shifts that have changed how we educate, train, and mentor cardiovascular sonographers."
The March ASE Education Calendar lists education opportunities far and wide.