The ASE Foundation needs your help to reach its highest ever GivingTuesday fundraising goal of $35,000. When you make your GivingTuesday contribution, allocate your funds towards the initiative that aligns most with your priorities!
Your donations to our Research initiative allow the Foundation to support the progress and future of our field through investment in the discovery process and in the careers of investigators, like 2023 Brian Haluska Sonographer Research Award Competition Winner, Nicole Guerrera, RDCS.
If supporting the discovery process of cardiovascular ultrasound investigators is #YourPriority, allocate your GivingTuesday donation to the ASE Foundation's Research initiative. Funding in this area preserves dedicated time for investigators through research grants, and also creates opportunities for researchers to interact with global experts in cardiovascular ultrasound, building relationships that lead to future research and professional collaborations.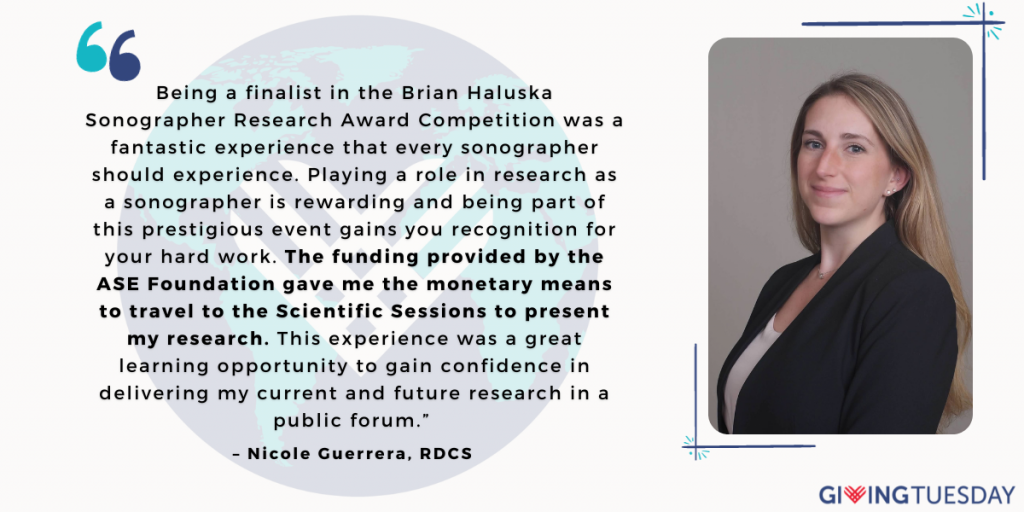 Donations will be accepted November 26 – December 2. Contact the Foundation at Foundation@ASEcho.org with any questions.