FOR IMMEDIATE RELEASE
Contact: Angie Porter
919-297-7152
APorter@ASEcho.org
Artificial Intelligence in Cardiovascular Imaging Research Highlighted at ASE 2023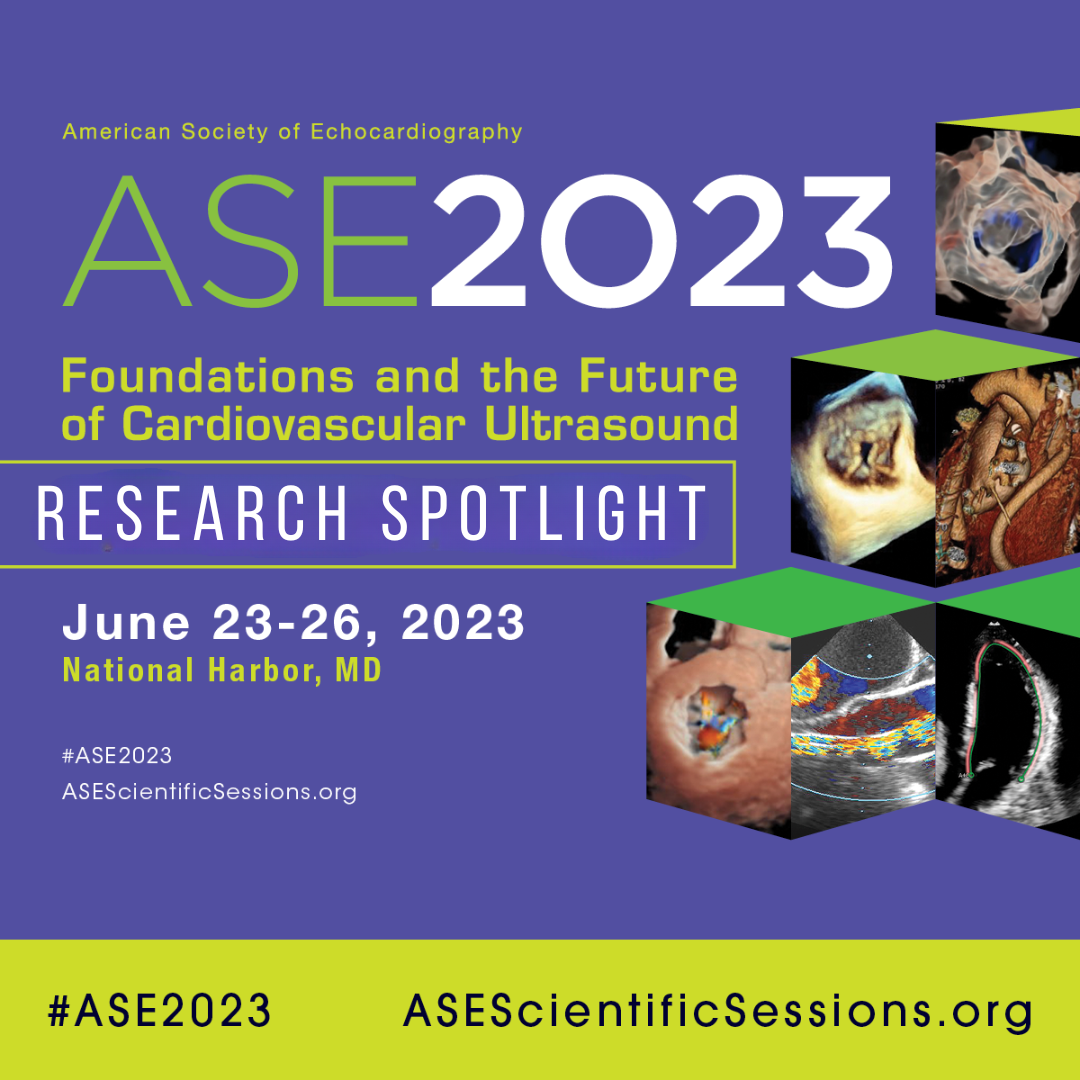 (DURHAM, NC, June 23, 2023)—Artificial intelligence (AI) is transforming the field of cardiovascular ultrasound imaging, and research studies are examining the ways that AI can most benefit patients and medical practitioners.
AI-related research is a prominent topic at the American Society of Echocardiography's (ASE) 34th Annual Scientific Sessions, June 23-26, 2023, in National Harbor, Md. This year's meeting is appropriately named Foundations and the Future of Cardiovascular Ultrasound and will focus on education, science and innovation.
Three AI research studies that will be presented during the meeting highlight different AI tools including AI-powered chat interactions, identifying patients with heart failure with preserved ejection fraction (HFpEF) and identifying life-threating valve disease. The findings from each of these studies will be presented Sunday, June 25, 2 p.m. to 2:45 p.m. at the Gaylord National Harbor Resort and Convention Center. Learn more about ASE 2023 and download the conference's final event program at ASEScientificSessions.org.
Using AI-Powered Chat Interactions with Patients
The rise of online chat-based AI models has opened up new possibilities in the field of medicine. A new research study titled Enhancing Patient Comprehension of Echocardiography Reports through Artificial Intelligence-Powered Chat Interactions examines how chat-based AI technology could potentially improve the healthcare experience for cardiovascular ultrasound patients.
Echocardiography reports are crucial for diagnosing and monitoring heart conditions, but they are oftentimes filled with complex medical terminology and numerous abbreviations that can be difficult for patients to understand. Providers use these reports to explain medical findings to patients, and patients can use the reports to actively engage in their healthcare, participate in insightful discussions with their doctors and obtain a better comprehension of treatment strategies.
"Our research is fundamentally about patient education and bridging the gap between medical complexity and patient understanding," says lead author Dr. Joseph Kassab, a cardiovascular imaging research fellow at Cleveland Clinic in Ohio. "By leveraging AI-powered chat interactions, it is our hope that in the future, we might be able to provide patients with a medically validated tool to explore and better understand their echocardiography reports on their own time. Doctors continue to provide their irreplaceable expertise, while the AI models serve as a supportive educational tool, making information more accessible to patients."
AI Can Detect HFpEF with Greater Ease and Precision
Heart failure with preserved ejection fraction (HFpEF) is a major cause of disease and death worldwide, and diagnosis can be challenging. Various algorithms that include clinical risk factors and echocardiography measurements have been developed for diagnosis but are indeterminate in many patients. A research study titled Automated Echocardiographic Detection of Heart Failure with Preserved Ejection Fraction using Artificial Intelligence applies AI to analyze a single, routinely acquired echocardiographic video clip in an effort to identify patients with HFpEF, a group with increased morbidity and mortality.
"Our novel AI model demonstrated excellent discrimination of patients with HFpEF versus without, more often than with clinical scores, and it was able to stratify patients according to mortality risk," said the study's senior author Dr. Patricia A. Pellikka, chair, Division of Cardiovascular Ultrasound at Mayo Clinic in Rochester, Minn. "Further testing in varied populations and in different echocardiography labs is needed to refine the model, but it could potentially be used for screening and importantly, expedite diagnosis and treatment for a large group of patients."
The deep learning-based AI algorithm was developed as a result of institution and industry collaboration. Mayo Clinic and Ultromics, an AI echocardiography company spun out of the University of Oxford, joined forces to develop the algorithm, which was cleared by the Food and Drug Administration (FDA) in 2022 after being awarded breakthrough device status. The research was supported by a grant from the ASE Foundation.
AI Technology Supports Echocardiography in Determining Aortic Stenosis Severity
Aortic Stenosis (AS) is a common form of valvular heart disease, and it is estimated to be present in over 12% of the population aged 75 years and above. Transthoracic echocardiography is the first line of cardiovascular imaging in determining the severity of AS and requires expert sonographic and interpretation capabilities to yield accurate results. AI technology has emerged as a useful tool to address these limitations but has not yet been applied in a fully hands off manner to evaluate AS.
A new research study titled Fully Automated Artificial Intelligence Assessment of Aortic Stenosis by Echocardiography tested an AI tool to measure echocardiographic markers of AS severity without human input. The AI-derived measurements were highly accurate when compared against expert cardiologist assessment.
"AI technology can allow for near instantaneous and hands-free identification of a life-threatening valvular heart condition by providers trained only in basic ultrasound," said lead author Dr. Hema Krishna, a cardiologist at the University of Illinois at Chicago. "This machine learning platform can potentially extend diagnostic capability to patients in rural, community, or emergency room settings without immediate access to cardiologists."
Dr. Krishna explained that rapid identification of hemodynamically significant AS can reduce the time to receive life-saving valve replacement therapy and also prevent unnecessary morbidity and mortality.
About American Society of Echocardiography
The American Society of Echocardiography (ASE) is the Society for Cardiovascular Ultrasound Professionals™. ASE is the largest global organization for cardiovascular ultrasound imaging serving physicians, sonographers, nurses, veterinarians, and scientists and as such is the leader and advocate, setting practice standards and guidelines for the field. The Society is committed to advancing cardiovascular ultrasound to improve lives. For more information, visit ASE's website ASEcho.org or social media pages on Facebook, Twitter, LinkedIn, or Instagram.
###