FOR IMMEDIATE RELEASE
Contact: Angie Porter
919-297-7152
aporter@ASEcho.org
American Society of Echocardiography Releases Updated Fetal Echocardiography Guideline
The guideline focuses on the use of echocardiography and multidisciplinary collaboration in fetal cardiac care and evaluation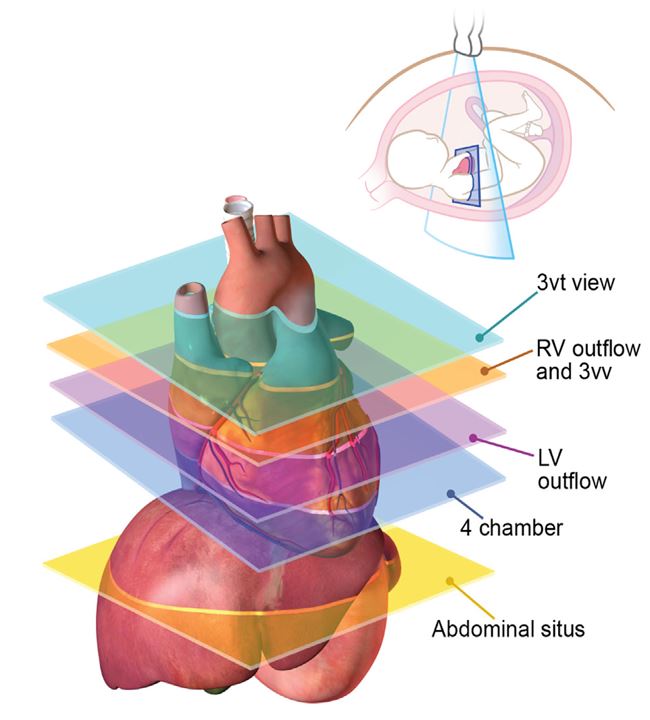 (DURHAM, NC, July 13, 2023)—Fetal echocardiography is a highly sensitive and specific noninvasive tool used to detect, classify and evaluate fetal cardiovascular diseases. The American Society of Echocardiography (ASE) released a guideline document titled Guidelines and Recommendations for Performance of the Fetal Echocardiogram: An Update from the American Society of Echocardiography, replacing the original guidelines and standards published by the Society in 2004.
The standards for imaging, reporting and communication of test results in fetal echocardiography continue to advance rapidly, and a considerable amount of new information has become available in the last 20 years. The purpose of this new guideline document is to provide updated recommendations for the performance and interpretation of fetal echocardiography.
The guideline focuses on the detection, classification, risk assessment, and perinatal care planning of pregnancies where the fetus has cardiovascular disease. Much of the information presented is the result of multidisciplinary collaboration and pooling of multicenter data and expertise of subspecialists and other important stakeholders in the care of fetal patients with cardiovascular disease.
The guideline's writing group was commissioned by ASE's Pediatric and Congenital Heart Disease Council and lead by Co-Chairs Anita J. Moon-Grady, MD, FASE, and Mary T. Donofrio, MD, FASE. The group presents detailed guidelines for what constitutes a complete fetal echocardiographic examination that can be used as a guide for both learners and experienced practitioners. The Fetal Heart Society, the Society of Pediatric Echocardiography and the American Institute of Ultrasound in Medicine also endorse the document, which is published in the July 2023 issue of the Journal of the American Society of Echocardiography.
"Ongoing research and collaboration have supported efforts toward a better understanding of fetal physiology and disease processes and progression. This has led to significant improvements in fetal diagnosis and in clinical practice and outcomes for patients," said Dr. Moon-Grady. "The information included in the updated guideline will help practitioners and clinicians maintain the best practice for fetal echocardiography and fetal and perinatal cardiovascular care across disciplines."
This document and all guidelines published by ASE are available at ASEcho.org/Guidelines.
About American Society of Echocardiography
The American Society of Echocardiography (ASE) is the Society for Cardiovascular Ultrasound Professionals™. ASE is the largest global organization for cardiovascular ultrasound imaging serving physicians, sonographers, nurses, veterinarians, and scientists and as such is the leader and advocate, setting practice standards and guidelines for the field. The Society is committed to advancing cardiovascular ultrasound to improve lives. For more information, visit the ASE website ASEcho.org or social media pages on Facebook, Twitter, LinkedIn, or Instagram.
###