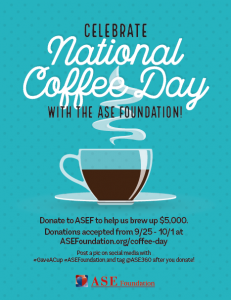 At the end of this month, the ASE Foundation will host its popular Coffee Day fundraiser from September 25 – October 1. Share a cup of joe with ASEF in honor of National Coffee Day on September 29 by making a donation in the amount you normally spend on a cup of coffee!
After you donate, let us know on social media by tagging @ASE360 with a picture of your coffee, or better yet, a coffee selfie, using the hashtags #ASEFoundation #GaveACup. We want to virtually "cheers" you for your contribution to our 2022 Annual Appeal! We set a goal to raise $5,000.
Interested in making an early pledge to help us wake up other donations? Contact Mary Carmody at MCarmody@ASEcho.org. Remember, every donation helps to fuel Foundation scholarships, research grants, global outreach patient efforts, and more!