The August JASE includes, "Longitudinal Arrhythmic Risk Assessment Based on Ejection Fraction in Patients with Recent-Onset Nonischemic Dilated Cardiomyopathy," by Giulia De Angelis, MD, Marco Merlo, MD, Giulia Barbati, PhD, Silvia Bertolo, MD, Antonio De Luca, MD, Federica Ramani, MSc, Luigi Adamo, MD, PhD, and Gianfranco Sinagra, MD, FESC.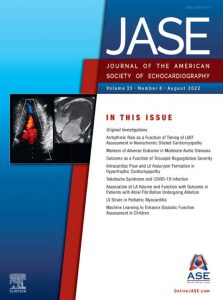 Dr. De Angelis noted that, "In our study conducted on non-ischemic dilated cardiomyopathy patients, we found that significant improvement in left ventricular ejection fraction (LVEF) occurs up to 24 months after initiation of guideline-directed medical therapy (GDMT). LVEF ≤35% identified patients with an increased risk of life-threatening arrhythmias at 24 months but not at earlier time points. The risk of life-threatening arrhythmias was low in the first six months after initiation of GDMT and remained low in patients who experienced an early reduction in left ventricular diameters in response to GDMT."
Additional clinical investigations explore echocardiographic risk assessment in moderate aortic stenosis, tricuspid regurgitation and outcomes, left and right atrial structure and function in various diseases, LV diastolic flow characteristics and aneurysm formation in hypertrophic cardiomyopathy, LV strain in myocarditis in children and adolescents, and machine learning to enhance diastolic function assessment in children. A Special Article highlighting the March ASE "Artificial Intelligence Forum: Echo Workflow for the Future," gives readers much to consider about the exciting future of AI and echo.
Brief research communications and correspondence round out the issue.
The President's Message from Stephen H. Little, MD, FASE, details ASE's Advocacy impact and its commitment to caretaking the future of echocardiography on the national level. The continuing education and meeting calendar outlines a multitude of learning options near and far.