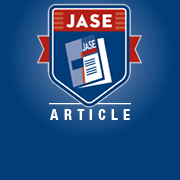 Did you know that each issue of the Journal of the American Society of Echocardiography (JASE) includes a free CME/MOC article? The 
articles
 are available each month in the ASE Learning Hub, making it easy to click, review, learn, and earn free CME/MOC credits. Simply log in to your 
ASE Member Portal
, "Browse Catalog" then choose JASE CME on the left side. There are currently 10 free JASE CME/MOC articles available.
CME certificates are available for immediate access once you have successfully completed the activity. Additionally, CME/MOC credits earned through the ASE Learning Hub can be automatically transferred to your appropriate credentialing body (ARDMS, CCI, ABIM, ABP, ABA) if your birthdate and registry number are listed on your Member Profile. You can add or update this information in the Member Portal by clicking the "Update My ASE Profile" tab and then "Change". Remember to scroll down and hit "Save" after making any changes. Need help? Submit an 
Education & Meetings Help Desk Ticket
.