Archives for October 2016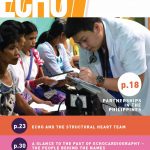 The October 2016 Echo magazine features two articles on key areas of growth in cardiovascular ultrasound: Point of Care Ultrasound and the Structural Heart Team. Also learn about everything you need to know to be prepared for MACRA, the people behind the names in echocardiography, key benchmarking data that provides baseline metrics for the field, the Echovation Challenge, the ASE Foundation  mission trip to the Philippines, and more. If you have an idea for a topic you would like covered in an upcoming issue or want to contribute an article, email echo@asecho.org.
ASE's President Allan Klein, MD, FASE, and Vice President Vera Rigolin, MD, FASE just represented our organization at two important international meetings.  Dr. Klein participated in Echo ASE ASEAN, held in Bangkok, Thailand. This course featured faculty from around the globe and over 200 attendees were eagerly engaged in learning.  Dr. Rigolin participated in the Indian Academy of Echocardiography's annual meeting, Echo India 2016.  This meeting was held in Madurai, India in the southern state of Tamil Nadu. Over 800 attendees came to this excellent training event. ASE's staff was on hand at both conferences to publicize ASE's new international membership rates ($100 USD for physician's outside the U.S.)  and educational offerings.  We appreciate the warm welcome to ASE's faculty in both locations
Abstract submission for the 27th Annual Echo Hawaii meeting closes this coming Tuesday, November 1. Don't miss your chance to present your basic or clinical science poster under the sun this winter. Submission is free of charge and presenting authors are eligible for a $100 discount off their conference registration. Abstracts are moderated by world-class faculty and a "Best Poster Prize" will recognize the top work presented. Visit the Echo Hawaii Call for Science page for more information. Submission closes Tuesday, November 1.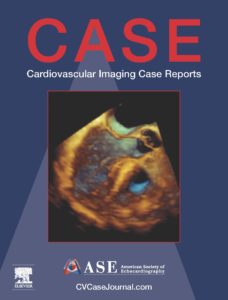 You asked for a case reports journal for cardiovascular imaging, and we listened. CASE, an online, open-access, case reports journal was launched this week. ASE leadership recognized the importance of producing a journal to meet the needs of the medical community by providing timely, practical information on the challenges that face clinicians daily in delivering optimum patient care through efficient and effective diagnostic testing.
Submissions are now being accepted, with the first issue planned for early 2017. The fees associated with accepted papers are $550 for ASE members which is deeply discounted from the $800 fee for nonmembers. The CASE Guide for Authors can be found here.
ASE is proud to have assembled an international editorial board of experts in a wide range of cardiovascular care areas, led by co-Editors-in-Chief L. Leonardo Rodriguez, MD, FACC, FASE from the Heart and Vascular Institute at the Cleveland Clinic in Cleveland, Ohio and Karen G. Zimmerman, BS, ACS, RDCS, RVT, FASE from the Webber Heart Center, Munson Healthcare, Grand Traverse Region in Michigan.
Please send any questions to CASE Managing Editor Deborah R. Meyer at dmeyer@asecho.org.
Do you have a peer who deserves recognition for the high level of their cardiovascular research? The ASE Nominating Committee is now accepting nominations for the 2017 Feigenbaum Lecturer who will present during the 28th Annual Scientific Sessions in Baltimore, MD, June 2-6, 2017. The deadline for nominations is October 28, 2016. 
Nominated individuals should have these qualifications in order to receive this prestigious honor:
Have provided a significant contribution to research in the field of echocardiography, with great potential to continue at a high level of achievement
Are a young investigator (under the age of 51 at time of nomination)
Are an innovator who has changed the field, has the capacity to present a research topic appropriate to headline a plenary symposium at the Society's annual meeting
Please contact Mary Alice Dilday at 919-297-7188 or madilday@asecho.org with any questions or to submit your nominations.
Do you have a teacher whose impact you can still feel?  ASE is looking for those excellent instructors to honor them at 28th Annual Scientific Sessions in Baltimore, MD, June 2-6, 2017. Please consider nominating your mentor for the prestigious Richard Popp Excellence in Teaching Award.
The deadline for nominations is October 28, 2016.  Please contact awards@asecho.org with any questions. Detailed criteria, and a list of former recipients and their topics, are available on the ASE Awards Page.
Echo Florida has started with beautiful sunny weather. We look forward to welcoming you at Disney's Grand Floridian.
ASE is keeping a close eye on the weather and travel situation as Hurricane Matthew moves north. At this time, all Echo Florida workshops and meetings will take place, as scheduled, this Saturday, October 8 – Tuesday, October 11.
The workshops and meetings will not be cancelled unless there is a mandatory evacuation of the Grand Floridian. In the event that anything changes, ASE will email you immediately.