Archives for March 2022
Join ASE members celebrating Women's History Month with the ASE Foundation by donating today. Think of your mentors, supervisors, family members – any women who are important to you and donate in their honor. The honored women will be featured on our website.
When you donate, include a tribute message and send a picture of the honoree to Mary Carmody, ASE Foundation Manager. Help the Foundation bloom into Spring, and let us shine a spotlight on the women who have inspired you!
Don't miss these three upcoming educational courses from ASE. Remember to log in to your ASE member portal for member discounts.
Advanced Echo: Virtual Experience
Content Available March 21, 2022
This online course will present the latest information on established and emerging cardiovascular ultrasound technologies. Combining the course highlights of Echo Hawaii and State-of-the-Art Echocardiography, expert faculty will discuss state-of-the-art technologies with a particular focus on how they can be effectively applied in the clinical setting. Case-based approaches are used to discuss new and established applications of echocardiography for diagnosis and guiding management in patients with a broad array of cardiovascular conditions. This content will be available beginning March 21, 2022 and will include 12 CME/MOC credits.
23rd Annual ASCeXAM/ReASCE Review Course: Virtual Experience
Content Available May 9, 2022
This course is specifically designed to help you gain the knowledge you need to pass the ASCeXAM and ReASCE exams. Even if you are not taking the exam this year, this course offers comprehensive cardiovascular ultrasound education that includes 28.75 AMA PRA Category 1 Credits™. Registration includes pre-recorded presentations, access to the PDF slides, and unlimited, on-demand access to the content through August 7, 2022.
This virtual review course also includes a live component with two, two-hour Q&A sessions hosted by expert faculty on Saturday, July 9, 2022.
33rd Annual Scientific Sessions
June 10-13, 2022 | HYBRID Event
ASE 2022 will be live and back in person in June 2022! Plan now to join us in Seattle, Washington, at the Seattle Convention Center, June 10 – 13, 2022.
Here's a quick breakdown by the numbers:
59 Live Sessions
53 On-Demand Sessions
9 Chalk Talks
7 Do-It-Yourself Acquisition Sessions
6 Learning Labs
6 Networking Events
2 Moderated Poster Sessions
2 Receptions
1 Workshop
Download the ASE 2022 Advance Program for all the details, and register today. Registration is available in two options, ASE 2022 In-Person and ASE 2022 Virtual.
Don't miss your opportunity to have a vital role in the upcoming CASE special issue, which will focus on cardiovascular (CV) point of care ultrasound (POCUS). Please consider submitting either a single case report or a case series (three or more cases) to CASE, to illustrate the proven value of POCUS (e.g., straight-forward cases that directly impacted patient care and/or clinical outcomes). Examples of POCUS limitations or misadventures with an educational emphasis will also be considered. For this special CASE Issue, we consider CV POCUS as any ultrasound (hand-held or full-system) performed at the bedside with immediate interpretation to assist in the care of a patient with known or suspected cardiovascular disease or hemodynamic compromise. Moving images must be archived/recorded and available for submission with your case report. Emergency rooms, trauma bays, intensive care units, hospital beds, and even ambulatory clinical spaces employ POCUS and will be considered. Echocardiography, vascular imaging, lung, and abdominal ultrasound that impact CV physiology are encouraged.
CASE is a fantastic resource for education, and with this issue, the editorial team aims to further the field to elevate patient care and user knowledge (including non-expert users). As always, include your "eye-shattering" high quality images. Please read the CASE Author Information for general formatting and structure guidelines. If you have questions before submitting, please click here to email the CASE Editorial staff. The deadline for submissions is April 1, 2022; all papers must be submitted through the CASE Editorial Manager portal. Indicate in the cover letter that the submission is intended for the POCUS Special Issue.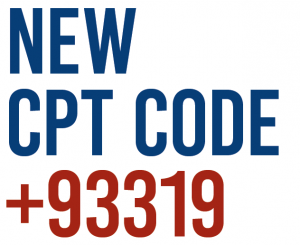 Effective January 1, 2022, ASE was proud to see the establishment of Current Procedural Terminology (CPT) add-on code +93319.
This code describes the clinical work involved in 3D echocardiographic imaging and post-processing during transesophageal echocardiography, or during transthoracic echocardiography for congenital cardiac anomalies and includes the assessment of cardiac structures and function (cardiac chambers, valves, left atrial appendage, interatrial septum, and function for example), when performed.
To use this new add-on code and be reimbursed properly, you must list this new CPT code in addition to the appropriate base echocardiography code: congenital transthoracic (CPT codes 93303, 93304) or Transesophageal Echocardiography (CPT codes 93312, 93314, 93315, 93317). It is important to note that this is not an add-on code for CPT code 93355 since this code already includes 3D imaging for guidance of a structural intervention. CPT codes 76376 and 76377 are not add-on codes and are appropriate for reporting 3D-rendering services provided on a date separate from the base-imaging study.
This code, along with the RUC-recommended physician work RVU of 0.50, is now effective.
Often it takes time for commercial payers to review and support new technology codes/policies and the associated literature. The COVID-19 pandemic may delay the process even further. ASE suggests that providers always verify with the payers if authorization must be approved in advance.
Questions about coding? ASE provides members access to a coding expert. Log in to your ASE Member Portal and click "Advocacy," then "Ask A Coding Expert" to submit your questions. ASE created a new coding newsletter with important information about changes in the CPT codes and policies in 2022.
The March JASE includes, "Trends in Utilization and Yield of Inpatient Transthoracic Echocardiography for Syncope: Impact of Cardiac Biomarkers," by Linda Lee, MD, et al. Dr. R. Parker Ward, MD, senior author on the paper, said, "Current guidelines advise selective use of transthoracic echocardiography (TTE) in the inpatient evaluation of syncope. Cardiac biomarkers, such as high sensitivity troponin, are found to effectively stratify the likelihood of abnormal TTEs in syncope patients, and suggest TTE utilization beyond current guidelines may be useful."
Clinical investigations in this issue explore speckle tracking echocardiography for coronary artery disease detection, echocardiographic assessment of the aortic root (with an editorial on the same subject), echocardiographic markers of mortality risk using an echo-modified Killip score, ventricular function after acute COVID-19 infection, manipulation of left heart function by exogenous ketones, and prenatal diagnosis of vascular ring overview. In addition to the Brief Research Communication from Lee et al., another one is included titled, "Repetitive Squat-to-Stand Provocation of Dynamic Left Ventricular Outflow Tract Obstruction in Hypertrophic Cardiomyopathy," by Peng et al. A correction is also published in this issue for "Mitral Annular Calcification and Calcific Mitral Stenosis: Role of Echocardiography in Hemodynamic Assessment and Management," by Silbiger, MD, et al., which appeared in the September 2021 JASE.
The March CME article is "Aortic Root Anatomy is Related to the Bicuspid Aortic Valve Phenotype," by Milleron, MD, et al.
The President's Message from Raymond Stainback, MD, FASE, explores the activities of his first six months of his tenure during extraordinary global challenges. The continuing education and meeting calendar outlines a multitude of learning options near and far.
ASE recently welcomed 20 distinguished Fellows of the American Society of Echocardiography (FASE) designation recipients! These members have exemplified excellence through education, research, leadership, and volunteerism. They are ambassadors for ASE and recognized experts in their field. Join us in congratulating the newest FASE recipients:
Charles Bitcon, MBBS, FANZCA, FASE
Ashley Jorraine Brown, MHS, RDCS, FASE
Stefano Boemler Busato, MD, FACC, FASE
Victor Hajjar, MD, FASE
Daniel R. Harland, MD, FASE
Joseph Maxwell Hendrix, MD, FASE
Joseph M. Krepp, MD, FASE
Milica Marion, RDCS, FASE
John Steven McNeil, MD, FASE
Tatsuya Miyoshi, MD, PhD, FASE
Samhati Mondal, MBBS, MD, FASE
Vinh Q. Nguyen, MD, FASE
Sara Nikravan, MD, FASE
Jennifer L Panahi, ACS, BHS, RDCS, FASE
Jason Bastos Pereira, MS, RCS, FASE
Hari Ganesh Rajagopal, MBBS, MD, FASE
Rajan Rehan, MBBS, MPH, FRACP, FASE
Zachary J. Rhinehart, MD, FASE
Dawn R Rufus BS, ACS, RDCS, FASE
Biana Trost, MD, FASE
A full list of FASE members can be found on SeeMyHeart.org. Recent new members will be recognized at the annual plenary meeting in Seattle, WA in June. If you are interested in applying for FASE and being recognized in the field, or would like more information, please visit ASEcho.org/FASE. The next deadline to apply is April 1, 2022.
The ASE Foundation is hosting its Spring Giving Month fundraiser all March long in celebration of Women's History Month. We invite you to donate in honor of the women in your life. Think of your mentors, supervisors, colleagues, teachers, students, family members – any women who are important to you!
All month long we will feature the honored women on our website. When you donate, be sure to include a tribute message and send a picture of the honoree to Mary Carmody at MCarmody@ASEcho.org.
Kick off our 2022 Annual Appeal and help ASEF bloom by honoring women in celebration of Women's History Month! Support the 2022 Annual Appeal with a donation to #YourPriority today!
Every spring, the ASE Foundation funds ASE Council Travel Grants for trainees and sonographers to support their attendance at the ASE Annual Scientific Sessions. These four grants that include a $1,000 USD travel stipend each are part of an ongoing effort by the Foundation, in assistance with the ASE Council Steering Committees, to encourage trainees in cardiovascular specialties to focus on the respective echocardiography subspecialty and to recruit enthusiastic new members to the Councils. Applicants must be a current member of ASE in order to apply for one of the Council Travel Grants.
Application is open in the following disciplines with groups:
Cardiovascular Sonography
Pediatric and Congenital Heart Disease
Perioperative Echocardiography
Circulation & Vascular Ultrasound
Previous recipients of an ASEF Travel Grant are not eligible to apply. Applications for the travel grants are now being accepted for this year's ASE Scientific Sessions in Seattle, WA! Visit this page to learn more. Application closes Monday, April 18, 2022.