Archives for July 2022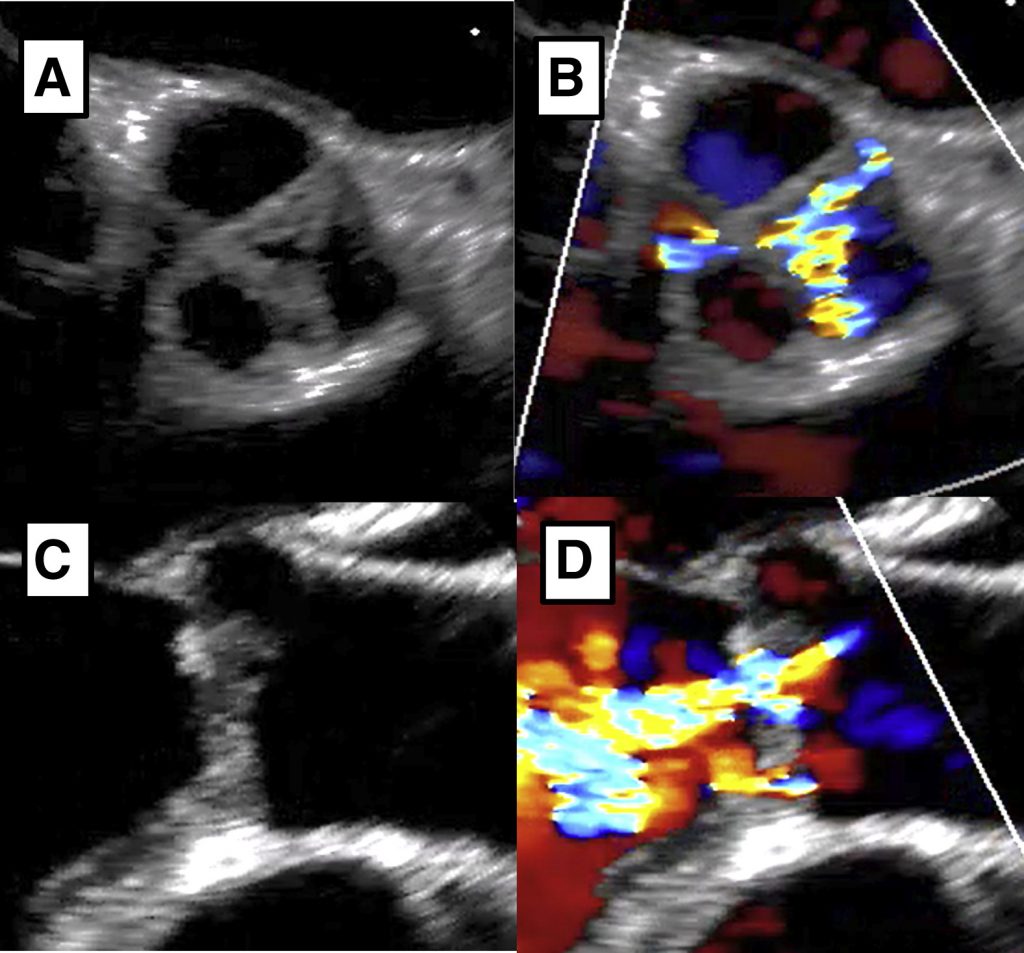 The latest issue of CASE, ASE's open access case reports journal, is available, with more great educational material to keep you sharp during the summer heat. One example is the case from Murata et al, Severe Aortic Regurgitation by Nonbacterial Thrombotic Endocarditis Treated with Anticoagulation Therapy. CASE Editor-in-Chief Dr. Vincent Sorrell noted, "This is a wonderfully illustrative CASE from this team of authors in Japan, who demonstrated that sometimes anticoagulation therapy alone can treat severe aortic regurgitation. These authors recognized early that the etiology for AR was non-bacterial thrombotic endocarditis and were able to treat the underlying disease and avoid surgical intervention."
Additionally, this issue includes new subsections; the Hemodynamic Corner includes reports on effusive-constrictive pericarditis and platypnea-orthodeoxia syndrome, while the Critical Care Echocardiography section features ECMO and RV strain. The Congenital Heart Disease section highlights the value of TEE for complex decision making. Finally, the Just Another Day in the Echo Lab section has a report from Cotella et al, about which Dr. Sorrell said, "The chest CT scan for the 'coconut atrium' as a result of rheumatic LA inflammation and resultant massive atrial wall calcification is simply amazing."
CASE offers a variety of submission options for authors in addition to case reports, such as Letters to the Editor, Unlock the CASE, and the Sonographer Sound-Off. Check out CASE's Author Information for details.
Finally, a reminder to sonographers that the ASE Council on Cardiovascular Sonography Steering Committee issued a challenge recently to ASE sonographer members around the world to submit cases to CASE as lead author. The first ten articles accepted will have their processing fee waived (valued up to $950 per accepted case). Three sonographer-led papers have already been accepted and were awarded this waiver. Submit your case to have a chance to earn one of the remaining seven waivers! Email Debbie Meyer, Director of Publications (JASE, CASE), or Andie Piddington, Deputy Managing Editor (JASE, CASE), with any questions or to request a case-writing mentorship from an ASE sonographer.
Since the publication of the recommendations for multimodality cardiovascular imaging of patients with hypertrophic cardiomyopathy (HCM) in 2011, an impressive growth and evolution of imaging techniques has occurred, enhancing both the recognition and management of the disease. Thus, an update was needed to provide recommendations that take into account these recent developments. Register for the Multimodality Cardiovascular Imaging of Patients with Hypertrophic Cardiomyopathy live webinar, scheduled for Thursday, July 28, from 6:00 – 7:00 PM ET on Zoom.
Lead author Sherif Nagueh, MD, FASE, will show how multimodality imaging plays a crucial role in the initial evaluation of patients with known or suspected HCM.
Learning Objectives:
Learn how to use multimodality imaging for patients with increased LV wall thickness
Demonstrate the assessment of dynamic obstruction, including provocable gradients and mitral valve anatomy
Implement multimodality imaging for risk stratification and prognostication
Use multimodality imaging for the assessment of ischemia and coronary artery disease
Attendees can earn 1.0 AMA PRA Category 1 Credit™ (pending approval) for attending this webinar. Registration for this webinar is FREE for ASE members (remember to login to your ASE Member portal) and costs $25 USD for nonmembers.
Register today for the Inaugural Echo in Pediatric and Congenital Heart Disease Virtual Experience.
During this two-day virtual course, Expert U.S. and international physician and sonographer faculty will present the latest information on established and emerging cardiovascular ultrasound technologies, clinical care, and practical considerations in children and adults with congenital heart disease. Case-based approaches and state-of-the-art review are both used to discuss new and established uses of echocardiography for diagnosis and guiding management in patients with a broad array of congenital cardiovascular conditions.
Topics include:
Unrepaired ACHD
Cutting-edge functional analysis
Imaging in high stakes environments
Contemporary approaches to left heart valve disease
Happy & Healthy: A Resiliency/Well Being Session
Exciting debates on fetal and research echocardiography
And many more. Check out the program agenda!
Registration includes a maximum of 16.5 CME/MOC credits (pending approval) for attending the live virtual course and completing the on-demand content. Attendees will have access to on-demand content for 90 days from Monday, September 19, 2022, to Sunday, December 11, 2022.
On July 7, 2022, the Centers for Medicare and Medicaid Services (CMS) released the CY 2023 proposed Medicare Physician Fee Schedule (MPFS) Rule. This proposed rule announces and solicits public comments on the proposed policy changes for Medicare payments under the Physician Fee Schedule (PFS), and other Medicare Part B issues, for services effective on or after January 1, 2023. Comments will be accepted until September 6, 2022. ASE is beginning our analysis of the Proposed Rule and will provide a summary analysis and fee schedule impacts for members promptly.
The ASE Cardio-Oncology Specialty Interest Group is hosting an upcoming webinar, Strain for Cardio-Oncology 101. Plan to join us on Wednesday, July 20, from 5:00 – 6:00 PM ET. By the end of this webinar you should be better able to:
Guide the sonographer on what information to gather and how to acquire strain
Learn the main pitfalls in strain acquisition
Help the provider interpret cardio-oncology cases
Moderators and Speakers: Marielle Scherrer-Crosbie, MD, PhD, FASE, Cardio-Oncology SIG Chair; Ana Barac, MD, PhD; Alexandra Gardner, RDCS, FASE; Jennifer Liu, MD, FASE; Amber Taylor, MBA, ACS, RCS, RVS 
Earn 1 AMA PRA Category 1 Credit(s)™ (pending approval) for attending this webinar.
Registration is FREE for ASE members and nonmembers, so please share with your colleagues. 
To register, log in to yourASE member portal. 
Select the ASE Learning Hub from the top red menu.
Register for the webinar here.
Are you interested in becoming a future leader in ASE or know someone who might be interested? Now is the time to apply for a position in the 2022-2024 class of the ASE Leadership Academy.
This program provides a unique opportunity for ASE members to increase their knowledge and develop a skill set that will help them in their careers and personal life. During this 20-month program, participants will be matched with a senior adviser, acquire a personalized evaluation of their leadership aptitude, and receive high-quality, online tutorials on leadership topics valued at over $7,500.
Applications and recommendation letters will be accepted through August 1, 2022. Questions? Email LeadershipAcademy@ASEcho.org.
Preparing to sit for the Advanced Cardiac Sonographer (ACS) Registry Exam? ASE's product, ACS Registry Review Guide 3rd Edition, designed by accomplished expert sonographers and ACS imaging specialists, is a comprehensive review of basic and advanced echocardiography. The review guide and teaching tool is for sonographers, echocardiography fellows, nurses, researchers, and others interested in an in-depth review of echocardiography and echo lab quality assurance best practices.
The ACS Registry Review Guide contains an extensive array of content:
A video set with 55 individual topics organized into 7 modules based on the exam.
Over 24 hours of video lecture content that include a thorough review and clinical application through real video case study presentations.
Also now available, the ACS Registry Practice Questions Workbook. Test your knowledge with over 580 questions associated with all 7 modules of the ACS Registry Review. This physical workbook includes explanations, references, and links to live videos.
Purchase this item in conjunction with the ACS Registry Review Guide [3rd Edition] online course to receive a discount. The discount will be reflected once both items are added to your cart. Do not forget to log in to the member portal before you purchase to receive the member pricing.
ASE) Past President Jonathan Lindner, MD, FASE, is a newly named advisor to the Medicare Evidence Development & Coverage Advisory Committee (MEDCAC), which advises the Centers for Medicare & Medicaid Services (CMS) on whether services and supplies are reasonable and necessary under Medicare law.
As a member on the MEDCAC, Dr. Lindner—who will soon relocate to the University of Virginia as the Francis Ball Chair of Medicine and Vice Chair of Research for Cardiology, brings more than 30 years' experience in clinical, educational and research activities in cardiovascular ultrasound imaging.
A recognized leader in cardiovascular medicine, Dr. Lindner has published more than 275 original papers, is funded by several R01 grants from the National Institutes of Health and the National Aeronautics and Space Administration, and is a pioneer in the use of advanced non-invasive imaging with nanotechnology for early detection of disease. Additionally, he is an active member and longtime leader in a variety healthcare-related organizations, including the ASE. He served as ASE's President (2018-2019), is current chair of the ASE Research Committee, and is a recipient of many notable ASE awards.
The MEDCAC was established to supplement the CMS internal expertise and allow an unbiased and current deliberation of "state of the art" technology and science. The MEDCAC advisory committee is comprised of up to 100 experts in clinical and administrative medicine, biologic and physical sciences, public health administration, patient advocacy, health care data and information management analysis, health care economics, and medical ethics, and provides independent guidance and advice to CMS. Read more here.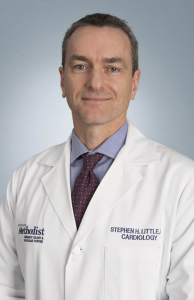 The American Society of Echocardiography (ASE) is pleased to announce the appointment of Stephen H. Little, MD, FASE, FRCPC, FACC, as the organization's new Board of Directors President, effective July 1, 2022.
Dr. Little has a strong understanding of the needs of ASE and its diverse membership from his nearly 20-year career dedicated to clinical, educational and research activities in cardiovascular ultrasound, and the numerous leadership and volunteer positions he's held within the Society.
Dr. Little is an active member and longtime leader in a variety of healthcare-related organizations, including ASE. He initially joined ASE as a cardiology fellow more than 20 years ago and has been a member of multiple committees—Information Technology, Research, Industry Relations and Public Relations, among others. He was also Chair and Co-Chair of both the Structural Heart Disease Task Force and the Committee on Guidelines and Standards. Most recently, he served on the Executive Committee on ASE's Board of Directors as the 2021-2022 President-Elect. Read more here.