November 2, 2023, 8:00 – 9:00 PM ET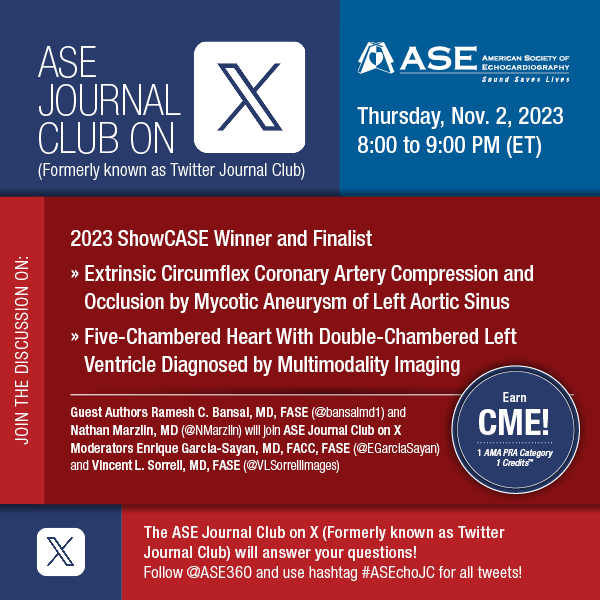 The ASE Journal Club on X may have a new name, but its purpose is the same—offering a unique way for participants to discuss and review cardiology journal articles, case reports, ASE Guidelines, and more!
The next Journal Club is planned for Thursday, November 2, 2023, from 8:00 – 9:00 PM ET. Join the discussion, which will highlight the winner and finalist of the 2023 ShowCASE session presented at ASE 2023 earlier this year. The two featured cases are titled, "Extrinsic Circumflex Coronary Artery Compression and Occlusion by Mycotic Aneurysm of Left Aortic Sinus," and "Five-Chambered Heart with Double-Chambered Left Ventricle Diagnosed by Multimodality Imaging."
Earn 1.0 AMA PRA Category 1 Credit™ for your participation by signing up for ASE Journal Club on X: November 2, 2023, in the ASE Learning Hub (ALH). Anyone can participate in the ASE Journal Club on X, but to earn CME/MOC, you must register in the ALH. ASE members can sign up for FREE. Follow @ASE360 and use hashtag #ASEchoJC for all tweets!