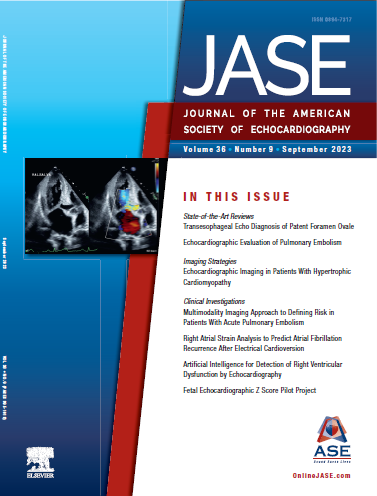 The September issue of JASE includes, "A Practical Approach to Echocardiographic Imaging in Patients With Hypertrophic Cardiomyopathy." Author Dermot Phelan, MD, PhD, FASE, remarks, "Hypertrophic cardiomyopathy, often undetected or misdiagnosed, exhibits varied phenotypic expression. Echocardiography is pivotal for diagnosis, risk assessment, and management. Due to variable phenotypic manifestations and dynamic pathophysiology, specific imaging protocols are crucial; this article offers a practical guide, encompassing image optimization, measurement accuracy, clinical data inclusion, and how to address specialized clinical scenarios."
This issue contains a multitude of clinical investigations on topics ranging from risk assessment with imaging in acute pulmonary embolism, to atrial mechanics for prediction of atrial fibrillation recurrence, to TEE imaging of the mitral valve, to the use of AI in the detection of RV dysfunction. Editorial comments accompany articles on biplane imaging and progress toward prognosis in patients with pulmonary embolism. Additionally, readers can look forward to two state-of-the-art reviews—one investigates key factors in the TEE diagnosis of PFO while another presents an echocardiographic evaluation of pulmonary embolism. Brief research communications include reports on prognosis predictors in patients with secondary mitral regurgitation undergoing mitral valve transcatheter edge-to-edge repair as well as a comparison of bedside automated function imaging and offline clinical workstation software in the biventricular deformation assessment of neonates.
Moreover, ASE has six core values that Dr. Eidem intends to expound upon in his future President's Messages. Read along as he first examines the importance of diversity, equity, and inclusion in ASE's efforts of bettering the field of cardiovascular ultrasound. Please see the September ASE Education Calendar for a listing of educational opportunities far and wide.