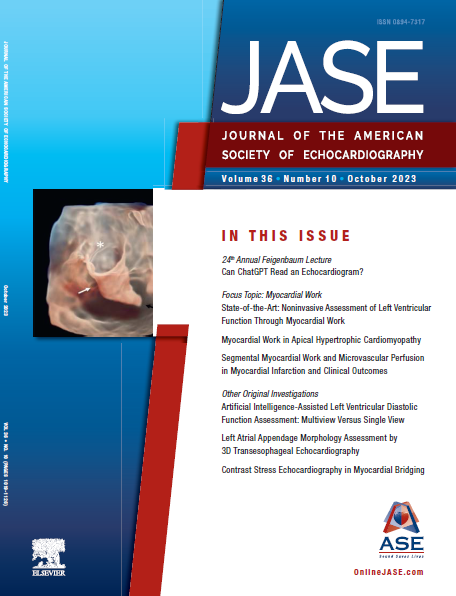 The October issue of JASE includes, "Artificial Intelligence–Assisted Left Ventricular Diastolic Function Assessment and Grading: Multiview Versus Single View." Editor-in-Chief Patricia Pellikka, MD, FASE, remarks, "In this interesting work, Chen et al. applied AI to an important clinical need, namely the assessment of diastolic function. Read about the three approaches that they used which involved single and multiple echocardiographic views, with and without LA and LV strain."
This issue contains another clinical investigation relating to LV diastolic function assessment with AI as well as a multitude of other reports covering 3D TEE, stress echo, echo in congenital heart disease, and fetal echo. Additionally, this issue offers an in-depth look at myocardial work through a state-of-the-art review and two clinical investigations, including one on its role in apical hypertrophic cardiomyopathy. Readers can look forward to learning if ChatGPT can read an echocardiogram in the 24th Annual Feigenbaum Lecture. Three brief research communications include reports on the association between blood pressure control and global longitudinal strain in patients with HER2-positive breast cancer on Trastuzumab-based regimens, RV remodeling in elite basketball athletes, and measures of acceleration time and ejection time in bicuspid aortic stenosis.
Dr. Pellikka's editorial defines this issue's focus topic, myocardial work, summarizing various research in the current and previous publications of JASE that can impart a greater understanding of this important echocardiographic metric. Dr. Eidem's exploration of ASE's core values continues with this month's President's Message, featuring an update on the implementation of ASE Cares from former ASE President Madhav Swaminathan, MD, MMCi, FASE. Christopher P. Appleton, MD, FASE, and Jae K. Oh, MD, FASE, have contributed a beautiful In Memoriam to their friend and colleague, Liv K. Hatle, MD, FASE, a widely respected pioneer in Doppler echocardiography and the global cardiology community, who passed away in June. This issue also contains photo highlights from the 34th Annual ASE Scientific Sessions. Please see the October ASE Education Calendar for a listing of educational opportunities far and wide.
---