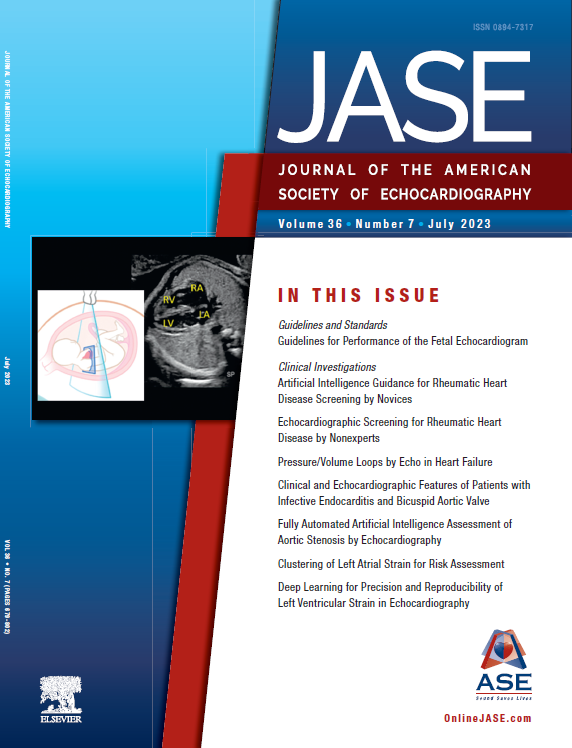 The July issue of JASE includes "Guidelines and Recommendations for Performance of the Fetal Echocardiogram: An Update from the American Society of Echocardiography." Co-Chair Mary T. Donofrio, MD, FASE, remarks, "It has been almost two decades since ASE released its last guidelines on fetal echocardiography. Since then, advances in the field and increased collaboration have improved imaging and increased our understanding of fetal cardiac physiology and disease progression. These guidelines will provide updated information on indications for referral as well as recommendations on timing of initial and serial follow-up studies for patients with CHD to best care for babies in utero and at delivery. The document also addresses assessment of arrhythmias, cardiac function, and CHD that progresses in utero, and gives instruction on the approach to imaging single ventricles and CHD with AV valve, outflow, or arch abnormalities. This document is the first to offer detailed guidelines for imaging of the fetal heart beyond describing normal, but also to include recommendations when fetal cardiovascular disease is present."
Clinical investigations in this issue include the use of artificial intelligence (AI) in rheumatic heart disease screening by novices, prognostic stratification of clinically stable patients with heart failure by an echocardiographic pressure/volume loop model, and features of infective endocarditis and bicuspid aortic valve through the lens of valve morphology. This issue further explores the focus topic of AI and echocardiography with articles on fully automated artificial intelligence assessment of aortic stenosis, unsupervised time-series clustering of left atrial strain for cardiovascular risk assessment, and a test-retest study on improved precision and reproducibility of LV strain. Readers can also look forward to an editorial discussing necessary changes to data design for echocardiography's big data age.
In his inaugural President's Message, Benjamin W. Eidem, MD, FASE, expands on the three membership-focused initiatives he will embark upon in this upcoming year.
Clarivate has released the 2022 Impact Factors, which for JASE is 6.5. JASE maintains its rank of 27 out of 142 cardiology journals, placing it in the top quartile.