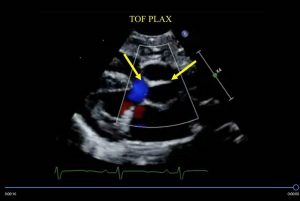 The March JASE contains a new ASE guideline, "Recommendations for the Adult Cardiac Sonographer Performing Echocardiography to Screen for Critical Congenital Heart Disease in the Newborn," by Melissa A. Wasserman, RDCS, RCCS, FASE, et al. Ms. Wasserman commented, "The ASE Councils on Pediatric and CHD and Cardiovascular Sonography collaborated to provide these guidelines that contain essential information and tools for all cardiac sonographers. This document describes critical congenital heart disease (C-CHD) screening targets and specific imaging recommendations, and the correlating videos show sonographers exactly what is being described. Our hope is that these guidelines will help all cardiac sonographers, regardless of their pediatric experience, to be able to detect C-CHD, and ultimately improve patient care and outcomes."
A review in this issue covers spectral Doppler interrogation of the pulmonary veins for the diagnosis of cardiac disorders. Clinical investigations explore aortic stenosis, quantitation of tricuspid regurgitation, hypertrophic cardiomyopathy, normal values for measurements of the right atrium (Results of the World Alliance Societies of Echocardiography Study), neonatal echocardiography, and impact of echocardiography laboratory accreditation. Two brief research communications and a letter to the editor round out the explorations.
Amer Johri, MD, FASE, and Laura Mantella, MSc, write in the Council on Circulation and Vascular Ultrasound blue page about non-invasive tools to assess cardiovascular risk. Take a look at the Education Calendar to see what virtual events you may fly to in your mind, and take part in on your computer.
Read the new Associate Editor Corner on the JASE homepage, produced by Jordan Strom, MD, FASE. In this inaugural interview, he talks with JASE Associate Editor Vincent Sorrell, MD, FASE, about a variety of compelling issues.