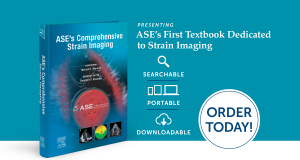 ASE'S Comprehensive Strain Imaging is your go-to guide for everything related to strain technique and application.
Join Editors Thomas Marwick, MBBS, PhD, MPH, MD, and Theodore Abraham, MD, FASE, on Monday, August 16, 2021 at 6:00 PM ET, for a celebratory virtual book launch previewing ASE's latest textbook. This free webinar event will introduce everything the new textbook covers and provide insights from the authors.
In honor of this virtual book launch, we are offering special author-signed copies of the textbook to anyone who purchases the book and includes CompStrain in the coupon code field when purchasing. This code is only valid through August 30, 2021.
To purchase your book or sign up for the webinar, please following these instructions.
Log in to your member portal and click on the ASE Learning Hub to receive member pricing.
Order your book today for the member price of $179.99 USD. Don't forget coupon code CompStrain to receive the digital signature version.
Register for the webinar here