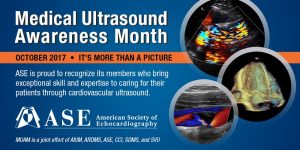 At the ASE Foundation, October is very special because it's Medical Ultrasound Awareness Month (MUAM)! MUAM was established to provide the public with a better understanding of ultrasound and its many uses in healthcare.
In honor of MUAM, the ASE Foundation encourages you to show the sonographers in your life how important they are to you by making a donation in their honor! Donate between today and October 31st and include the name and email of the person you are honoring. The Foundation will then send a special electronic card to that person thanking them for the role they play in your life and the lives of patients.
Give a gift that supports the ASE Foundation while honoring those who support you. Join the Foundation in celebrating Medical Ultrasound Awareness Month!