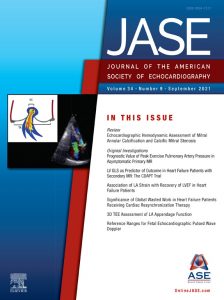 The September JASE includes, "Prognostic Value of Peak Exercise Systolic Pulmonary Arterial Pressure in Asymptomatic Primary Mitral Valve Regurgitation," by Dimitri Arangalage, MD, PhD, et al. Senior author David Messika-Zeitoun, MD, PhD, said that, "In asymptomatic patients with primary degenerative mitral regurgitation, we show that peak systolic pulmonary artery pressure measured during exercise provides important prognostic information, and our data suggest that a threshold of 50 mm Hg may potentially guide indication for surgery." Do not miss the podcast on the JASE homepage where Dr. Messika-Zeitoun, and Jose Banchs, MD, FASE, discuss this paper with Amer Johri, MD, FASE. Bernard Cosyns, MD, PhD, and Julien Magne, PhD, authored an accompanying editorial comment, "Exercise Systolic Pulmonary Arterial Pressure in Asymptomatic Mitral Regurgitation: Back to the Future." A paper by Federico Fortuni, MD, et al. also looks at risk stratification but in secondary tricuspid regurgitation.
Other clinical investigations in this issue spotlight applications of echocardiography in heart failure, 3D echocardiographic assessment of the left atrial appendage, pediatric hypertrophic cardiomyopathy, and reference ranges for pulsed-wave Doppler of the fetal cardiac inflow and outflow tracts. The CME opportunity in this issue is a review by Jeffrey J. Silbiger, MD, "Mitral Annular Calcification and Calcific Mitral Stenosis: Role of Echocardiography in Hemodynamic Assessment and Management." Brief Research Communications and Letters to the Editor round out this issue's scientific matter.
A photo essay sharing the highlights of ASE's 2021 Scientific Sessions Virtual Experience is in this issue. It illustrates the remarkable science, joyful and impactful interactions, and the emerging talent furthering echocardiography.
ASE President Raymond Stainback, MD, FASE, lays out the process in his President's Message of key ways to volunteer for ASE. Read about vital developments and achievements regarding the sonographer and pediatric and congenital heart disease councils. The education calendar outlines a multitude of learning options near and far