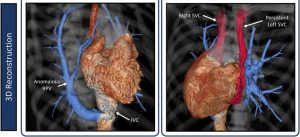 The latest issue of CASE is now available with intriguing reports, including "The Sword and the Crown: Echocardiography for the Detection of a Rare Combination of Congenital Heart Disease" by Akingbade et al. Author Jeremy A. Slivnick, MD, FACC, FASE, remarked, "We present a case of partial anomalous pulmonary venous return with Scimitar Syndrome and persistent left superior vena cava which was incidentally detected by transthoracic echocardiography in a young female patient. Our case highlights the importance of careful sonographic evaluation for shunt lesions—including anomalous pulmonary venous return—whenever unexplained right heart enlargement is present. Additionally, passage of saline contrast bubbles into the coronary sinus prior to the right ventricle on left arm injection is confirmatory of persistent left superior vena cava."
In a second Congenital Heart Disease report, authors utilize expert fetal echocardiography skills to evaluate an atrial mass that could have easily been misinterpreted. This issue contains two cases in Multimodality Imaging, including reports on the strengths and weaknesses of multimodality imaging in an investigation of rare pericardial tumors, and the migration of an atrial septal defect closure device to the pulmonary artery of a pregnant patient. Cardiac Tumors and Pseudotumors offers two serial imaging studies demonstrating the usefulness of radio-, targeted molecular-, and immune-therapies in the complete resolution of large masses. In a letter to the editor, authors provide additional 3D echo insights to consider when examining the LAA. Dr. Sorrell's editorial discusses the normality of false chords and suggests reporting must evolve in accordance with improved imaging capabilities, which can now detect previously hidden anatomic variations.
Looking for a journal to submit your case report to? We want to hear from you! Email us with questions or submit your report today. Be sure to check out the latest Sonographer Sound-Off and Unlock the CASE features on the CASE Homepage to view more extraordinary work from your colleagues.