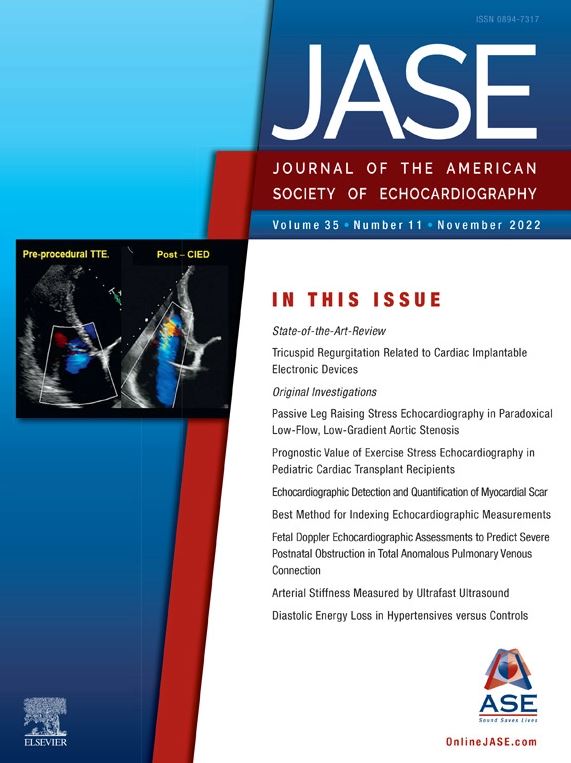 The November JASE includes, "Passive Leg Raise Stress Echocardiography in Severe Paradoxical Low-Flow, Low Gradient Aortic Stenosis," from Drs. Buffle, Papadis, Boscolo Berto, Grani, Seiler, and de Marchi. Dr. de Marchi noted, "Stress echocardiography has been relying on dobutamine, also for patients with aortic stenosis. This study evaluates an increase in LV filling using passive leg raise in both, classical and paradoxical low-flow low-gradient aortic stenosis. It shows that adding leg raise to dobutamine increases the parameters we wish to stimulate in stress echocardiography."
Two other clinical investigations also look at novel applications of stress echo. Additional clinical investigations explore optimum indexing of cardiac measurements, fetal echo prediction of postnatal obstruction in total anomalous pulmonary venous connection, cardiac function and pulmonary hemodynamics in infants with Down Syndrome, and echocardiographic imaging of myocardial scar, with an accompanying editorial, "Detecting Scar in Echocardiography: Has the Power Shifted?" from Drs. Appadurai and Thomas. A review article, which offers CME, explores tricuspid regurgitation related to cardiac implantable electronic devices. A group of robust brief research communication on validation of alternative left atrial indexation methods in obesity, development of a new technique for ultrasound imaging of the innominate vein and the venous angle, local arterial stiffness assessment, and assessment of diastolic energy loss in hypertensives versus controls and thought-provoking correspondence round out the issue.
The President's Message from Stephen H. Little, MD, FASE, illustrates how ASE is making sure that it is preparing, planning, and prioritizing to be a leader in how Societies grapple with all of the digital data that is part of general society and of course, echocardiography. The continuing education and meeting calendar outlines a multitude of learning options near and far.