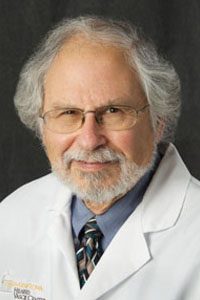 ASE is saddened by the passing of Past President (1997-1999) and longtime member Richard Kerber, MD, FASE. Dr. Kerber was a kind and intelligent person who made a real impact on the field and the cardiovascular community in his lifetime. He served on many ASE committees and on the faculty for numerous Scientific Sessions. Dr. Kerber delivered the Edler Lecture in 1999 on "Deconstructing the Body: Medical Imaging, Medical Art and the Art of Medicine." He was Professor of Cardiovascular Medicine at the University of Iowa Carver College of Medicine. Dr. Kerber received his undergraduate degree in Anthropology from Columbia University and his medical degree from New York University in 1964. After an internship and completing part of his residency at Bellevue Hospital in New York City, Dr. Kerber joined the US Army Medical Corps and served two years as a Captain in a MASH unit in Vietnam, earning the Bronze Star in 1968. Upon his return, he completed his residency and a Cardiology Fellowship at Stanford University Hospital by 1971. It was this same year that he joined the University of Iowa and rose through the ranks, becoming a Professor by 1978 and then Director of Echocardiography. He authored more than 250 articles, two books, more than 330 abstracts, and dozens of chapters of books. His influence on cardiovascular research and clinical innovation will be felt for years to come. Dr. Kerber was dedicated to education and mentoring those around him, serving as Director of the Cardiology Fellowship Program for 17 years.  His impact was deeply felt by members of our community. Past Presidents and current leadership shared their sentiments about his legacy:
A wonderful colleague, physician, historian and musician. Our thoughts and prayers are with him and his family. – Dr. Bill Zoghbi
"I can't possibly say enough good things about Dick. He had a very successful medical career. He also had a wonderful career as an exceptional human being." – Dr. Harvey Feigenbaum
"His friends and colleges know that Dick was completely committed to echocardiography at a time when many people were trying to determine its usefulness." – Dr. Walter Henry
"In addition to being a colleague and mentor to us all, Dick is the epitome of a "mentsch"-with a refined moral compass and a wonderful perspective on how medicine fits into the broader world." – Dr. Julius Gardin 
"He was a brilliant researcher but more importantly a man of integrity and kindness." – Dr. Jonathan Lindner
"Very sad news but a life well lived. Dick leaves an enormous legacy behind him. He will be very, very missed." – Dr. Tony DeMaria
"Dick was at Stanford so we have been colleagues forever. He has always been an example of good nature, wise judgment and devotion to his family. Truly a fine man." – Dr. Richard Popp
Dick Kerber was my mentor when I was a junior attending at the University of Iowa. It is from him I learnt experimental echocardiography. He was always available guiding me through a variety of scientific studies. A kind and intelligent man, he had trained a number of young clinician-scientists and it was my privilege to have spent a part of my life with him. We continued our friendship over the years and I will cherish the memories forever. – Dr. Natesa G. Pandian
Although I never worked directly with Dick in the clinical arena, he recommended me for my first ASE committee many years ago. I am in gratitude to him for that gesture since it started my involvement with ASE. – Dr. Vera Rigolin
Feel free to share your memories on Connect@ASE.
ASE will be establishing an honor, in Dr. Kerber's name, and the board will vote on this at their meeting later this month. The Funeral services are this Sunday at 2:00 pm at Agudas Achim Synagogue in Iowa City (401 E Oakdale Blvd, Coralville, IA 52241). Burial will be in New York.