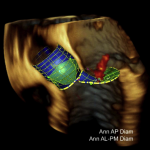 The September JASE contains "Poor Survival with Impaired Valvular Hemodynamics After Aortic Valve Replacement: The National Echo Database Australia Study," by David Playford, MBBS, PhD, FCSANZ, FESC, FACC, et al. Dr. Playford said, "We have coined a new term in relation to obstruction of flow across valve replacements: "Impaired Valvular Hemodynamics" or IVH. We believe it best addresses the combined issue of abnormal gradients, reduced orifice area, and patient-prosthesis mismatch.The National Echo Database of Australia is the world's largest repository of echocardiographic measurement and report data that is linked with all-cause and disease-specific mortality. Using NEDA, we characterised the valvular hemodynamics in patients with AVR and classified them by the degree of IVH." Two additional articles on echo in valvular heart diseases join this one for a deep dive on the topic.
This issue also includes a state-of-the-art review, "Artificial Intelligence and Echocardiography: A Primer for Cardiac Sonographers," from Ashlee Davis, BS, ACS, RDCS, FASE, et al. Ms. Davis said, "With this article, we really wanted to address artificial intelligence (AI) from the sonographer's perspective. Our goal was to ensure that sonographers have an understanding of the current and future uses of AI in echo, and address any concerns or fears that they may have about the impact on the profession."
Other clinical investigations cover stress echo, hypertrophic cardiomyopathy and contrast echo, how to identify cardiovascular risk in systemic lupus erythematosus, echo assessment of myocardial scar, echo in children, and fetal echo. Three brief research communications finish out this month's scientific knowledge. To read about a man whose life exemplified passion for echo and science, do not miss JASE Editor-in-Chief Michael H. Picard's piece, "In Memoriam: Alfred F. Parisi, MD, FASE."
Other features this month include:
JASE always welcomes input from our readers as we strive to provide top-notch research and communication for our dynamic field. Email managing editor, Deborah Meyer, at DMeyer@ASEcho.org.