Archives for May 2023
ASE is an organization that is open to all echo enthusiasts, and a diverse and active membership not only makes ASE stronger, but also the field of cardiovascular ultrasound. As a free member benefit, members can choose to join one (or more) of ASE's six Councils or four Specialty Interest Groups (SIGs).
ASE's Councils provide members with an opportunity to be involved with one or more subspecialty group to enhance their careers and knowledge, and Council membership is free. The 2023 Scientific Sessions in National Harbor, Maryland, offers multiple opportunities to engage with Council members, including a Business Meeting and Networking Event on Friday, June 23.
Cardiovascular Sonography
Circulation & Vascular Ultrasound
Critical Care Echocardiography
Interventional Echocardiography
Pediatric and Congenital Heart Disease
Perioperative Echocardiography
SIGs support members who have a common interest in specialized areas with growth potential in cardiovascular ultrasound. There are currently four SIGs that members can join for free.
Cardio-Oncology
Emerging Echo Enthusiasts
Neonatal Hemodynamics TnECHO
Veterinary
Join an ASE Council or SIG, by logging in to your ASE Member Portal. Contact Dallas Lyons at DLyons@ASEcho.org with questions about Councils, and email SIGs@ASEcho.org with questions about joining a SIG.
Free for ASE Members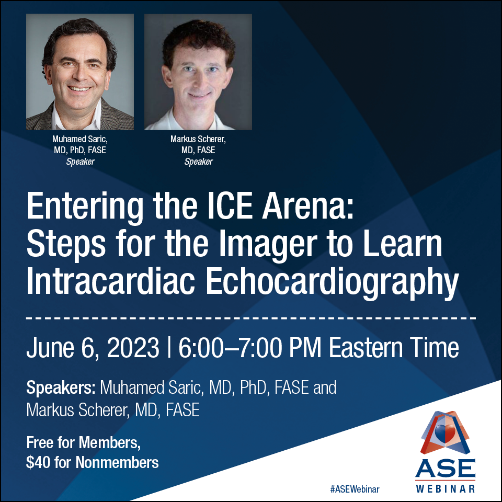 Register now for ASE's next live webinar on June 6, 2023, 6:00 PM – 7:00 PM ET, Entering the ICE Arena: Steps for the Imager to Learn Intracardiac Echocardiography. This webinar will offer an introduction to the use of 2D and 3D ICE for structural heart procedures. This webinar is free for ASE members and $40 for nonmembers.
Speakers: Muhamed Saric, MD, FASE, and Markus Scherer, MD, FASE
Learning Objectives:
Understand orientation of ICE views and comparison with other imaging modalities
How to acquire ICE views with catheter manipulation
How to interact with 3D ICE data sets on the echo cart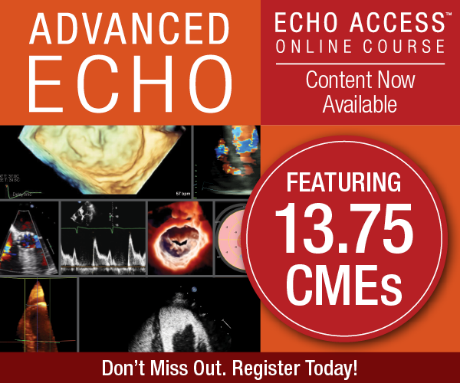 Did you miss Echo Hawaii or State-of-the-Art Echocardiography (SOTA) earlier this year? Or maybe you are looking for unlimited on-demand access to the latest education on established and emerging cardiovascular ultrasound technologies? Good news! Register for ASE's Advanced Echo Online Course and access 49 presentations compiled from the 2023 Echo Hawaii and SOTA courses. Expert faculty discuss state-of-the-art technologies with a particular focus on how they can be effectively applied in a clinical setting.
Registration includes access to course materials until March 27, 2024, CME credits, and MOC points, and ASE members receive reduced registration fees as a benefit of membership. Just log in to your ASE Member Portal before registering.
June 15, 2023, 12:00-1:00 PM ET
The Canadian Society of Echocardiography (CSE) is working with the Journal of the American Society of Echocardiography (JASE) Editorial Team to present a live podcast discussing the May 2023 JASE Article The Impact of Sonothrombolysis on Left Ventricular Diastolic Function and Left Atrial Mechanics Preventing Left Atrial Remodeling in Patients With ST Elevation Acute Myocardial Infarction.
Attendees can watch and listen to the live, collaborative podcast on Thursday, June 15, from 12:00 – 1:00 PM ET on Zoom. Speakers representing CSE and JASE will join in the online discussion. Attendees are eligible to receive Royal College MOC credits and no registration is required to attend.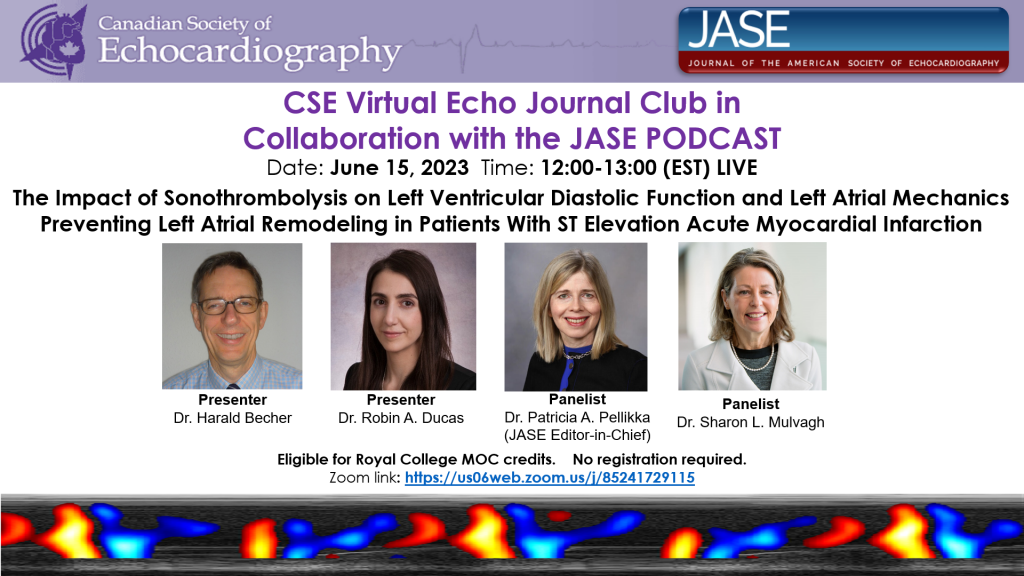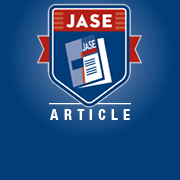 Did you know that each issue of the Journal of the American Society of Echocardiography (JASE) includes a free CME/MOC article? The 
articles
 are available each month in the ASE Learning Hub, making it easy to click, review, learn, and earn free CME/MOC credits. Simply log in to your 
ASE Member Portal
, "Browse Catalog" then choose JASE CME on the left side. There are currently 10 free JASE CME/MOC articles available.
CME certificates are available for immediate access once you have successfully completed the activity. Additionally, CME/MOC credits earned through the ASE Learning Hub can be automatically transferred to your appropriate credentialing body (ARDMS, CCI, ABIM, ABP, ABA) if your birthdate and registry number are listed on your Member Profile. You can add or update this information in the Member Portal by clicking the "Update My ASE Profile" tab and then "Change". Remember to scroll down and hit "Save" after making any changes. Need help? Submit an 
Education & Meetings Help Desk Ticket
.

ASE's ImageGuideEcho™ Registry is the nation's first echo-specific clinical data registry. Within the Registry, your institution will have the analytical tools to: track quality improvement, conduct detailed analysis into your own data, leverage continued alignment in quality with IAC, link to outcomes data, and examine data to conduct innovative research.
Join us at ASE 2023 in National Harbor, Maryland, and stop by the ASE ImageGuideEcho Registry Booth #531 in the Echo Expo. ASE member physicians will be presenting these five information sessions:
SATURDAY, JUNE 24
Growth of the ImageGuideEcho Registry
12:00 PM – 12:30 PM
Jordan Strom, MD, MSc, FASE
Cedaron: Improving Quality of Care
1:00 PM – 1:30 PM
Malcolm Bond, PhD
The Pediatric Echo Module
2:45 PM – 3:15 PM
Dan Forsha, MD, MCS, FASE & Charitha Reddy, MD
SUNDAY, JUNE 25
The Perioperative Echo Module
10:05 AM – 10:35 AM
Alina Nicoara, MD, FASE
ASE & IAC – A Continued Alignment in Quality
12:00 PM – 12:30 PM
David H. Wiener, MD, FASE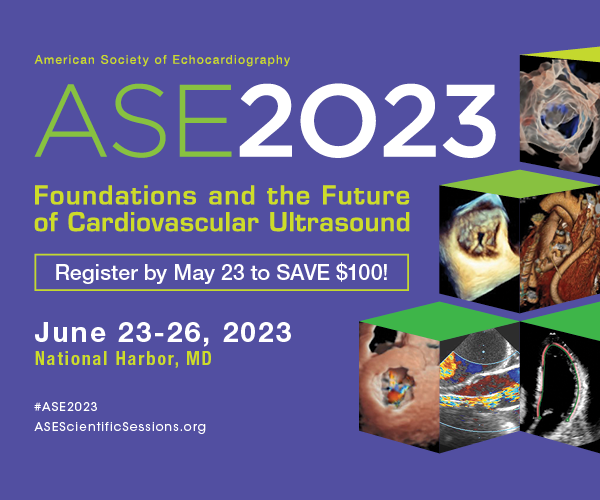 Register today
 to join us at the ASE 2023 Scientific Sessions in National Harbor, Maryland, June 23-26, 2023. This premier cardiovascular ultrasound conference will address foundational concepts, evolving practice, and research in these areas and more:
Imaging Fundamentals
Perioperative
Critical Care
Circulation and Vascular
Interventional Echocardiography
POCUS
Multimodality
Innovation & Technology
Pediatric & Congenital Heart Disease
Myocardium
Ischemia
Sonographer Career Day at ASE 2023
New this year, ASE is hosting a 
Sonographer Career Day
 on Saturday, June 24. This special day enables students who are enrolled in a sonography school program the unique opportunity to network with faculty and learn more about their chosen career in-person at ASE 2023 free of charge. There will also be two recruiting sessions where students can meet with up to 24 potential employers. 
Pre-registration
 is required, and students must register using their school email address.
 (This registration does not include CME or access to recorded content.)
Misinformation at Play? May CASE Saves the Day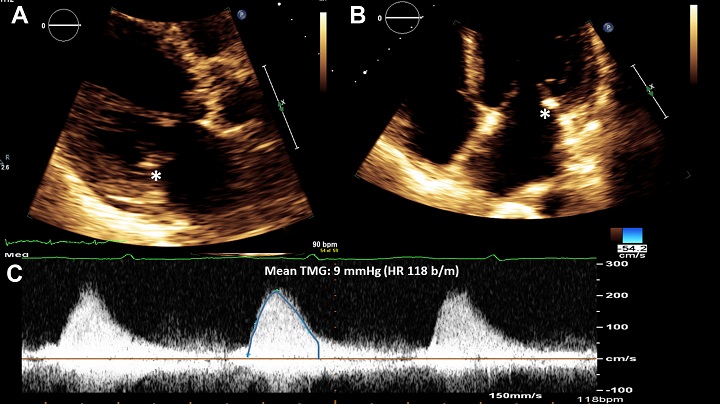 The latest issue of 
CASE
, ASE's open access case reports journal, is now available with some captivating reports, including "
Degenerative Mitral Stenosis: A Case-Based Review
" by Morgan Lamberg, DO, MHSA et al. CASE Editor-in-Chief, Vincent L. Sorrell, MD, FASE, remarked, "Lamberg et al. have prepared an excellent case-based review on the ever-increasing prevalence of degenerative mitral stenosis (DMS). Although rheumatic mitral stenosis (RMS) has become less common, mitral annular calcification progressing to DMS continues to increase and unlike RMS, carries a poor prognosis with limited treatment options. The authors do an outstanding job of demonstrating the value of a multimodality imaging approach that complements 2D, 3D, and Doppler echocardiography. They also include accompanying tables and flow-diagrams to assist us in how we approach these patients and highlight the approach when DMS is combined with aortic stenosis (~25%). Using a combination of echo and computed tomographic imaging parameters, the authors provide a proposal to help standardize our grading of the severity of DMS. Although treatment options are limited, the authors leave us with some hope that newer transcatheter interventions continue to evolve and are specifically addressing this disease state."
In the spirit of cultivating image-based education, there is a second case in the Valvular Heart Disease category which exhibits high-quality imagery of a rare TAVI complication of an aorta-to-RV fistula. Additionally, there are two reports in the Cardiac Tumors and Pseudotumors category and three in the Critical Care Echocardiography category, including a riveting report with a 2D-echocardiographic image of the myocardium after coronary air embolism during angiography. In his editorial, Dr. Sorrell investigates how misinformation can manifest in the echo lab and the responsibility of all in the medical community to consciously combat this issue.
Looking for a journal to submit your case report to? We want to hear from you! 
Email us with questions
 or 
submit
 your report today. Be sure to check out the latest Sonographer Sound-Off and Unlock the CASE features on the 
CASE Homepage
 to view more exceptional work from your colleagues.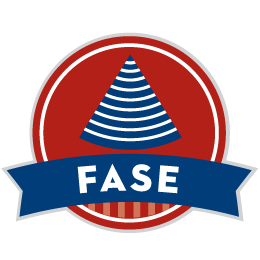 So far this year, ASE has welcomed 42 distinguished Fellows of the American Society of Echocardiography (FASE) recipients! These members exemplify excellence in the field of cardiovascular ultrasound through education, research, leadership, and volunteerism. They are ambassadors for ASE and recognized experts in their field. Join us in congratulating the newest FASE recipients:
William Bradley, DNP, NP-C, ACNP, ACHPN, FASE, AACC
Stephanie Paige Coleman, RDCS, FASE
Corrado Fiore, FASE
Karan Kapoor, MD, FASE
Jessica A. Kolb, RDCS, FASE
Hsin-Yueh Liang, MD, FASE
Christina Luuly Luong, BSc, MD, MHSc, FASE
Majd Makhoul, MD, FASE
Renato Morcerf, RDCS, FASE
Davoy R. Murray, MD, FASA, FASE
Lakshmi Muthukumar, MD, FASE
Andrew Philip Notarianni, MD, FASE
Seyedehzahra Mahshid Ojaghihaghighi, MD, FACC, FASE
Priscilla Paladino-Rivieccio, RCS, FASE
Aaron Robert Prosnitz, MD, FASE
Sajjadur Rahim, ACS, RDCS, RVT, MBBS, FASE
Samreen R. Raza, MD, FASE
Jason N. Salamon, MD, FASE
Vahid Sepehri, MD, FASE
Karen Elizabeth Singh, MD, FASE
Vianney Tedjamulia, MD, FIHA, FASE
Nicholas Thomas Thielen, MD, FASE
Dongngan T. Truong, MD, FASE
Karen Miller, RDCS, FASE
Sahar Mohammed Abdelhamid, MD, FASE
Rowa Attar, MD, FRCPC, FASE
Kelley Robert Branch, MD, FASE
Nicholas J. Enger, RDCS, FASE
Patrick T. Gleason, MD, FASE
Ythan H. Goldberg, MD, FASE
Stanislav Henkin, MD, MPH, FASE
Patrick Thomas Hussey, MD, FASE
Kamalesh R. Karthikeyan, MD, FASE
Dor Markush, MD, FASE
Pooja Natarajan, MD, FASE
Yaser Saeed Nemshah, MBBS, FASE
Cassandra Polsen, BS, RDCS, FASE
Gabriel Shaya, MD, FASE
Erik Ryan Su, MD, FASE
Raymond K. Young, MD, FASE
Raffael Pereira Cezar Zamper, PhD, FASE
Erick Calderon-Aranda, MD, FASE
A complete list of FASE members can be found at SeeMyHeart.org. If you are interested in applying for FASE, or would like more information, visit ASEcho.org/FASE. The next deadline to apply is June 1, 2023.