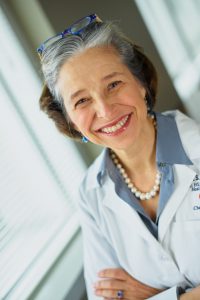 Pamela S. Douglas, MD, MACC, FASE
Ursula Geller Professor of Research in Cardiovascular Diseases, Duke University
ASE Past President 2001-2003
Pamela S. Douglas, MD, is the Ursula Geller Professor of Research in Cardiovascular Diseases in the Department of Medicine at Duke University and Director of the Multimodality Imaging Program at Duke Clinical Research Institute. During her 30+ years of experience she has led several landmark multicenter government studies and pivotal industry clinical trials along with outcomes research studies.  She is renowned for her scientific and policy work in improving the quality and appropriateness of imaging in clinical care, clinical trials and registries and through development and dissemination of national standards for imaging utilization, informatics and analysis. She has been among the pioneers in a number of areas including heart disease in women, sports cardiology, and cardio-oncology. Dr. Douglas' wealth of experience includes authorship of over 400 peer reviewed manuscripts and 30 practice guidelines, and service as the President of the American College of Cardiology, President of the American Society of Echocardiography, and Chief of Cardiology at both the University of Wisconsin and Duke University. She has also previously served on the faculties of the University of Pennsylvania and Harvard University. She currently serves on the External Advisory Council of the National Heart, Lung and Blood Institute and the Scientific Advisory Board of the Patient Advocate Foundation.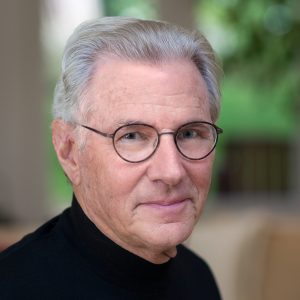 Richard L. Popp, MD, MACC, FASE
Professor of Medicine (Emeritus), Stanford University
ASE Past President 1979-81
Richard Popp is Professor of Medicine (Emeritus) at Stanford University. Dr. Popp is a clinical Cardiologist who focused his research on development of all forms of ultrasound in cardiology with more than 300 scientific publications.  Dr. Popp was Senior Associate Dean for Academic Affairs at Stanford from 1995-2000. He continues to teach in the Stanford Biodesign Innovation Program. He was Chair of the Conflict of Interest Committee at the Medical School 2000-2018. Dr. Popp was President of the American College of Cardiology, the American Society of Echocardiography and the Association of University Cardiologists. He is the previous Chairman of the American Board of Internal Medicine's Cardiovascular Diseases Subspecialty Board. He has received several special recognitions including The Rambam Award in Israel in 2012, the Gold Medal of the European Society of Cardiology in 2016 and the Albion Walter Hewlett Award of the Stanford University Department of Medicine in 2017.  He was a Venture Partner at Advanced Technology Ventures from 2005 to 2012 and now is a Founder, Investor and/or Board Member of several "Start-up" companies.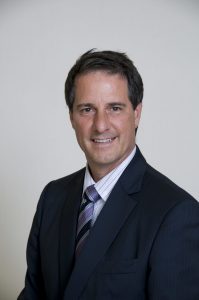 James D. Thomas, MD, FACC, FASE, FESC
Director for the Center for Heart Valve Disease, Bluhm Cardiovascular Institute, Northwestern University
ASE Past President 2011-12
James D. Thomas, MD, is a cardiologist at Northwestern Medicine with a clinical focus in valvular heart disease and echocardiography. After 22 years at the Cleveland Clinic, he is now Director for the Center for Heart Valve Disease and Director of Academic Affairs in the Bluhm Cardiovascular Institute and Professor of Medicine at Northwestern University Feinberg School of Medicine.
Born and raised in Oklahoma City, Dr. Thomas attended Harvard College (graduating summa cum laude in Applied Mathematics) and Harvard Medical School before clinical training at Massachusetts General Hospital and the University of Vermont.
Dr. Thomas has over 650 peer reviewed publications with an h-index of 119.  He is past-president of the American Society of Echocardiography (ASE) and currently serves on the ASE Board of Directors and co-chairs a committee to standardize the measurement of myocardial strain by echocardiography. He previously served on the Cardiovascular Board of the American Board of Internal Medicine (ABIM) and as co-chairman for the 2007 American College of Cardiology (ACC) Annual Scientific Sessions. Dr. Thomas also serves as lead scientist for ultrasound with NASA, focusing on the effects of space on cardiovascular function. Other research interests include cardiac mechanics, application of new echocardiography technology, and integration of engineering principles into clinical decision-making.
Since arriving at Northwestern, Dr. Thomas has been instrumental in bringing early device trials to BCVI, providing intraprocedural echo guidance for SCOUT, TIARA, MitraClip, and other trials.  He has also formed a two-year fellowship in advanced cardiovascular imaging in collaboration with cardiovascular radiology as well as joint ventures with engineers and scientists on the Evanston campus.
When not reading echoes, Dr. Thomas enjoys cooking, skiing, scuba diving, and the occasional bungee jump.
Neil J. Weissman, MD, FACC, FASE
President, MedStar Health Research Institute
ASE Past President 2014-15
Neil J. Weissman, MD, FACC, FASE, is the Chief Scientific Officer for MedStar Health and President of MedStar Health Research Institute.  Dr. Weissman is a professor of medicine at Georgetown University School of Medicine and an internationally recognized cardiologist with expertise in echocardiography and clinical trials.
As chief scientific officer, he provides leadership for the development and implementation of specific scientific priorities, with a commitment to further advancing MedStar Health as an academic healthcare system. As president of the Research Institute, he is responsible for the overall strategic and operational direction of the research arm of MedStar Health.
Dr. Weissman's research interests include the use of cardiovascular ultrasound imaging in clinical trials on valvular heart disease, prosthetic heart valves, and intravascular therapeutics. He has served as principal investigator for numerous national and international multi-center trials served on several national organizations and editorial boards and written hundreds of original reports published in high profile peer-reviewed journals. He is frequently invited to serve as an expert on U.S. Food and Drug Administration advisory panels and National Institutes of Health commissions and held many national leadership positions including past president of the American Society of Echocardiography and past chair of the American College of Cardiology's Imaging Council.
Dr. Weissman received his medical degree from Cornell University Medical College in New York. He completed his internship, residency and chief residency in Internal Medicine at New York Hospital. He followed his residency training with a clinical and research fellowship in Cardiology and a fellowship in Cardiac Ultrasound at Massachusetts General Hospital in Boston.
Karen G. Zimmerman, BS, ACS, RDCS (AE, PE), RVT, FASE
Coordinator – Quality & Education, Echocardiography & Vascular Programs, West Virginia University Medicine and Heart and Vascular Institute
CASE Editor-in-Chief
Karen G. Zimmerman, BS, ACS, RDCS (AE, PE), RVT, FASE is Editor-in-Chief of CASE: Cardiovascular Imaging Case Reports, the new journal from the American Society of Echocardiography (ASE). As a founding Editor-in-Chief, she and the entire CASE team have created ASE's first on-line journal that also features multimodality interactive imaging. CASE published its inaugural issue just 16 months ago and already hosts a global editorial board and works with authors and reviewers from around the world.
Karen has served on numerous groups and steering councils for the ASE: COPE, the Sonographer Steering Committee, Education Committee, and the Scientific Sessions planning committees.  Karen has been a frequent presenter at the Scientific Sessions and has also worked on several ASE DVD projects such as TEE Structural Heart Disease, Sonographer Review, and ACS Review Course. Karen is currently working on the Guidelines for the Evaluation of Residual Valve
Regurgitation After Percutaneous Repair or Replacement and the Guidelines for the Use of TEE to Assist in the Operating Room.
With over 30 years of echocardiography experience she has authored numerous peer reviewed publications and state-of-the-art book chapters on image-guided mitral repair. She continues to work on research emphasizing the importance of the continuity-of-imaging and multidisciplinary collaboration while using the latest technology.
Karen was the Advanced Imaging Specialist for Munson Healthcare in the Grand Traverse Region of Michigan. In this role, she was instrumental in the development and clinical introduction of advanced echocardiographic imaging for cardiologists, interventionalists, hospitalists, intensivists, anesthesiologists, and cardiothoracic surgeons. She was central to the creation and development of their ground-breaking echo-guided percutaneous and surgical mitral valve repair programs.
Karen is the newly appointed Coordinator of Quality & Education and Echocardiography & Vascular Programs at the West Virginia University School of Medicine and Heart & Vascular Institute. She will be involved with the Research and Innovations Labs and clinical trials. Karen has also been appointed to the faculty of West Virginia University's new school of sonography in Morgantown. In these capacities, she will continue her multidisciplinary approach to guiding diagnosis and intervention while teaching medical students, residents, fellows, and sonographers.
Her most important role and passion is to create a common language between specialists to insure the highest quality continuity-of-imaging for those patients with the most advanced cardiac disease. Her comprehensive background is essential for keeping echocardiography at the forefront of cardiovascular diagnosis and treatment.